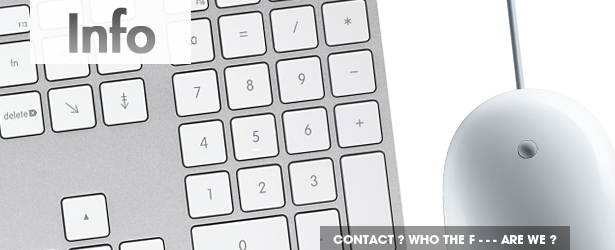 Info
ABOUT SPONGERCITY
Welcome onboard !
Spongercity.com is willing to promote bodyboarding's culture, lifestyle and its small industry. The site is dedicated to all spongers worldwide, wherever they ride. Spongercity tries to offer a different approach and view of the bodyboarding community, trying to keep the website fresh and clean. It ain't about quantity it's more about quality. World news are posted weekly, trying to sum up what's going on in the boogie world with little reports on which websites make it happen and whose people care about the sport. We don't care where you're from and where to latest news come from, if it's relevant for us, we'll cover it on the website. It's all about international news. We're developing and enhancing the site as often as possible but there are still some 'under construction' sections…sorry, shit happens.
Spongercity.com has been trying to come up with real interviews, and real DVD reviews. I take the time watch videos, listen, do some research, ask people things they're never asked and then write down the reviews or interviews to make sure i have quality content on spongercity.com. The DVD reviews section here is probably the biggest and most comprehensive you can find on the web.
Stay tuned for more and subscribe to our mailing list on the home page of the site to learn about the latest updates on spongercity.com.
NEED TO CONTACT SPONGERCITY™ ?
To contact us, to advertise on the website, to send news & feedback or DVDs for the reviews, feel free to drop an email here:
info [ at ] spongercity [ dot ] com
ADVERTISE ON SPONGERCITY
Advertising on spongercity.com is possible, we have space available for rent on our website. Don't hesitate to contact us for a quote or any info concerning advertisement on the website.
info [ at ] spongercity [ dot ] com
COVERAGE & CONTRIBUTION
Latest coverage was in MOVEMENT MAGAZINE – ISSUE 14 – AUSTRALIA – Nov.06 Check the article here and also here.
WARNING
All photos, layouts, texts and designs on the website belong to Spongercity.com You cannot use them or copy them. Read the copyright statement below to learn more.
COPYRIGHTS & AUTHOR RIGHTS
All Spongercity.com content texts, images, photos, designs, wallpapers and website layout have been created by Spongercity.com exclusively for Spongercity.com, they have been registrated and are protected by CopyrightDeposit® They can not be used, stolen, or copied without the authorization of the Spongercity.com webmaster.