The cool guys at Congo boards were kind enough to let us review another one of their boards and shape it to our requirements and preferences to really show us what the brand is capable of. Californian shaper Jimmy Linville shaped us a cool custom board with the dimensions we gave him and a few weeks later we got our new ride knocking at the door. We asked for a polyvalent board, with PE and a stringer in 42. Jimmy is well known for his cool DK shapes and this board was no exception. He made us a great polyvalent board that works perfect for DK but allows us to still ride prone for when you see a cool ramp and wanna hit it prone style.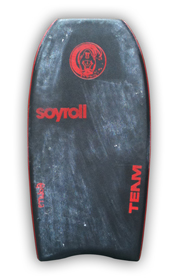 The template Jimmy used is really classic and easy to ride, the board goes fast and responses really well thanks to the PE core. The flex is good and the PE used by Congo is great. The board was quite thick which makes it comfortable in DK and makes it float well.
The attention to details and the quality of the board is awesome, like all boards made by Jimmy in California and once again we were 100% pleased with he board.
From what Congo Boards told us you can ask them for pretty much anything and Jimmy will shape it. Any size, material (PE or PP), options (stringers etc.). With Jimmy's expertise and years in the shaping bay there's no way you'd end up with a bad board. We didn't ask for anything color-wise and got a sick black board with a black slick and black rails, just a red pinline. Classy! We didnt ask Congo Boards if they can stamp the board the way you want but we're pretty much sure they can. (Note that the Soyroll™ Accessories stamp was made by us after we received the board – It's a new bodyboarding accessoires brand)
Another great company and shaper to get customs from. The service was fast, the answers by email were fast and the shipment too. They do ship worldwide so wherever you are you can order a board and the boards are made in the USA.