Probably the most expensive suit on the market and the most expensive suit we got to test we reckon. We got a 4/3/2 fullsuit (front zip on the chest). It's the top range stuff. The fullsuit looks and feels great, it's really really light and the neoprene is nice and light. (They call it Geoprene actually because the Yamamoto neoprene they use for this suit comes from limestone and isn't made from petroleum products. Geoprene is derived from 99.7% pure limestone. It's warmer – 98% water impermeable compared to the standard 69% – lighter and lasts longer than oil-based neoprene. It's also kinder to Mother Nature since it wastes less biomass and comes from a sustainable resource—not petroleum. Geoprene is exclusive to Yamamoto Corporation and Matuse, Inc.)
Read the rest of this review by clicking the link below.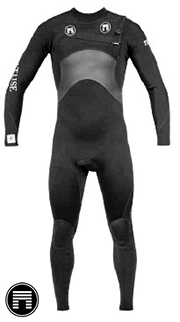 We were surprised to see that the suit was only 4/3/2 instead of 4/3 coz in the winter we really need a good 4/3 usually but we gave it a go anyway and here's the result:
The suit feels good, looks awesome and is very light but it seems to lack of stretch compared to all other "high-end" suits we've tested, however once you've got it on you it's not that bad and it's warm. It's as warm as the other 4/3's we've tested and it's light. It's lighter than other suits and it feels like you've got nothing on your skin so it's great however we felt that the lack of stretch was a bit of a problem. The seams are glued and blind stitched will a seal tape and there's no water entry at all. For a 4/3/2 is was really warm (as warm as other suits) but not warmer. The zip on the chest and the entry system works well and the suit fitted really well (we tested a ST size for tall skinny dudes). The design and the seams and panels on the suit are well cut, the suit looks pretty sick and the geoprene feels good on your skin.
To sum it: it's a good suit, it's warm, it's nice, it fits good and tight, it's got a good cut and well placed seams (at least in their ST size which is cool) but it's not really warmer than other good suits and it's pretty expensive. It's the only suit we've tested with Geoprene instead of neoprene which we reckon is better than using petroleum base neoprene. However we're not sure if the carbon footprint of the suit is as "nice" as its organic construction : it's made in china from japanese neoprene, then expedited to the USA we reckon before being re-expedited to europe or elsewhere. That being said, all good suits on the market pretty much have the same kind of distribution and travel all the way across the globe before they can keep our little butts warm.
Suit is cool, nice, light, expensive, eco-friendly but not that stretchy.
Technical specs for this suit as seen on the MATUSE website:
100% GLUED AND BLIND STITCHED SEAMS WITH SATIN SEAL TAPING.
A powerful trio that provides durability, flexibility and cushy softness for your skin.
CHEST ZIP TUMO ENTRY SYSTEM WITH HOOD ATTACHED.
Angled front-entry system gives you a VIP pass into your suit but leaves water standing at the door.
TITANIUM COATED GEOPRENE TEXTURE SKIN ON CORE.
Provides board traction and makes you bulletproof—at least against the wind and cold.
HIDDEN CHAMBER TECHNOLOGY.
Geoprene with built-in air chambers that act like mini-pressure cookers combined with your body's radiant heat. Warmer, lighter and more buoyant than average mouse-pad oil-based neoprene.
SADDLE SEAT.
Inspired by Jet-ski suits, this panel is designed to withstand many-a-swell spent straddling. Better yet, the Saddle Seat's form-active design keeps your undercarriage happy because it won't ride up.
100% HYDRASILK LINING.
Won't snag; doesn't suck (up water) and is butter soft. This hydrophobic material (i.e., it rejects moisture) is your windbreaker in the water.
EXTERNAL KEY POCKET
Located just above the outer left knee. Includes elastic loop cord, mini-pocket and zipper closure. This allows you to get into your car without having to remove the top half of your suit.