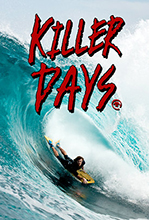 Killer Days is probably the best video we've seen in 2013. Edited by Todd Barnes, Killer Days showcases team FOUND Boards (and guest firends) and it does it well, very well. With Mitch Rawlins leading the charge with his perfect style and control, team Found is well documented in there: Thomas Robinson smooth rides and hacks from Oz to India, Damian King's precision pocket riding and jokes, Andrew Lester's powerful lines and barrels as well as Jones Russell and George Humphreys shredding. Among guests Jake Stone has heaps of amazing footage in the video and absolutely rips. What stroke us once again is Mitch Rawlins's perfect style, his bottom turns and scooping, his positioning, his speed and lines and the way he links his bottom turns to the next section and hits the lip are just above the rest, seriously, Mitch is a freak, he rides a boogieboard the way you're supposed to – to its full potential – and he does this with unmatched style. Watch him surf and learn.
Destination-wise you'll be tavelling to West Oz, South Oz, somewhere in india with Thom Robinson and Canarias. The qualiy of the footage is mind-blowing, there are phantom camera footage from Chris Bryan and the overall quality of the video is just nuts. Water angles, footage from land, lifestyle footage, sceneries and landscapes, everything is top notch. The titles are clean and stylish, it's a real professional work done with taste and passion.
The soundtrack is well chosen and fits the riding and editing very well making the film even more enjoyable. This is definitely a movie you'll need to watch and have in your possession.
Killer Days lasts 57 min. and there's not a single minute to skipp forward while watching.
It's available on DVD format at bodyboard shops worldwide or as a digital Hi-Res .Mp4 download for 11 or 12 $ directly on Vimeo On Demand here: https://vimeo.com/ondemand/killerdays/81541684. We did watch the Hi-Res video from Vimeo and it's perfect quality so dont be scared to get it online.
Watch the teaser here:

KILLER DAYS Trailer II from Todd Barnes on Vimeo.
Comments off