AUGUST BURNS RED, Leveler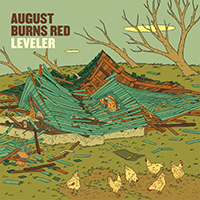 Style : Hardcore, Metal
For fans of: Parkway Drive, A Day To Remember, Bring Me The Horizon etc.
Ok, so we havent really done a proper music review for years on Spongercity.com but it's time for a change and we're amped to review so stuff again, whether it is DVD's, Boards, Dins, Music and whatever else we can get our hands on.
AUGUST BURNS RED was formed in Lancaster, PA, USA, in 2003, featuring vocalist Jon Hershey, guitarists J.B. Brubaker and Brent Rambler, bassist Jordan Tuscan, and drummer Matt Greiner. Leveler is their 4th studio album and it's the best one to date in our opinion. Their previous albums were really good but this one is as good as it gets with an uber-powerful sound, violent yet melodic songs and sick vocals. Full package ! We're loving this one. Probably not the taste of all our Spongercity.com visitors (but we'll review some more laid-back music too, don't worry) but those fans of the "genre" August Burns Red – which we've seen playing live as well – are masters. Seriously, appart from a couple bands that gave us chills a while ago like THRICE or FROM AUTUMN TO ASHES we haven't enjoyed anything like this for a while – appart from some good PARKWAY DRIVE music, of course.
AUGUST BURNS RED sound is square, powerful, clear, and will get you amped to fuckin' charge in the water, gets barrelled, throw some Paul-Roach'esque tail snaps and scream out loud. If you like hardcore/metal similar to PWD you'll surely love AUGUST BURNS RED.
Spongercity.com-approved-music. Done!
Comments off