NMD boards are made by Mez in indo, in the same factory that produces VS, LMNOP, HB, SCIENCE, SNIPER, some TOYS, some TURBO, MOREY, BZ, ELIT and even more brands… They're all really good boards with a solid construction (Buzz Tech Laminators), CNC Machine precision for the cut of the core blanks, and hand shaped finitions for all boards (rails, nose and tail bumpers, nose bulbs & lamination process).
We've tested the NMD Ben Player 41.5 3D board in a wide range of conditions and waves, same as we did with the PE board model back in 2009. The PE core was getting flexier and softer recently so we went for a 3D core board, looking for something that will feel more like a real good DOW core (PE) board from back when the PE was super good.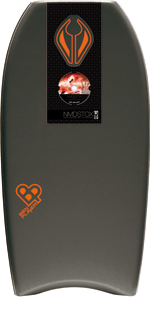 The template is relatively narrow and straight but less than a VS Hardy board for example. It's got a little more of a curvy template while still being straight. The curve from the tail to the nose is gentle and well balanced. There's nothing extreme about this board. It's not extremely narrow nor wide, the nose is not extremely narrow nor wide and the tail is the same way: the whole board is well balanced with smooth curves and easy to use dimensions.
What we liked with this 3D board is that we had the same exact sensations as the PE board but a little stiffer, like a really solid DOW board. It was almost too stiff at the beginning. The mesh makes the 3D core boards very stiff from what we've seen. It seems that 3D core with no mesh is flexier and gives more flex to the board right when you ride it for the first time but for this year at least all NMD boards have mesh in their 3D boards. The 3D core with no mesh, which we tested on a custom board, felt easier and livelier straight out of the factory, no need to make it flexy during the first few sessions. The mesh adds stiffness and longevity to the board but on the other hand it needs warmer water than classic PE boards we reckon and it takes quite a few sessions to get the board a little more flexy and start feeling it really well. That happens with PP boards, it takes a dozen sessions to "break" the core a little bit and feel it well. 3D core is to be used for water temps somewhere between a PE (colder waters) and a PP (warm waters).
The 3D core is stiffer than the PE and it's heavier than PE. The 3D core is the heaviest core at the moment between PE, PP and 3D but it doesn't really change anything once in the water. It sits a little deeper in the water and when you paddle maybe. Other than that the Ben Player 3D core has all the same advantages as the Player PE or PP boards: the template is fast, easy to use and responds really.
Same as the Player PE board we tested before the Player 3D board has a fair and easy behavior, it's not tricky at all, the rails feel good and your elbow sits well on the board, the rail to rail turns are made easy, the deep and wider curves feel soft and easy to make, the 360's and off the lip tricks feel like they're accessible, the control in and around the pocket feels good and mostly important of all: the board is fun to ride and everytime you try something on it, it's asking for more. It's quite tolerant and it feels like it offers endless possibilities.
We tested the board in 1 to 5 feet waves, mostly beachbreaks and hollow/punchy sandbar breaks. It took us a while to make the board flexy enough to be really confortable in hollow waves and late take offs but once you've got the board to the right flex it's really good and lasts longer than PE boards which is cool. We rode the board in water temps ranging between 15°C and 19°C. The board gets better and better as the temperature rises and we got good feedback from friends riding the board in Indo and other really warm locations.
We tested the 41.5 size. For dropknee (it's definitely not a DK board) it's not that great but it's still ok for a couple waves each session. We would ride 42 or 42.25 (or even 42.5) for DK usually so 41.5 feels a bit small for DK and the template of the Player board isn't really made for DK as you might have guessed. If you're looking for a polyvalent board don't choose a Player board.
For prone this board is really good and we think it offers a good option between PE and PP in a quiver of boards, keeping the PE boards for heavy waves and/or cold waters and using 3D for warmer waters and trips and/or smaller waves maybe. Same as the PE template, the Player 3D is an all around good shape which works pretty much everywhere in any conditions.