It's been a while since we last interviewed someone. Lack of time mostly, explains why we havent put any new interviews on the site but we eventually took the time to prepare some questions for Ryan Hardy. Ryan's been killing it in WA and in Bali with his Bodyboarding School and being the legend he his it's always good to catch up with him and see what he's been up to. Thanks heaps for your time Ryan! Yeww
What have you been up to today?
Today I was busy packing things up getting ready to rent our house out while we live in bali for 5months…just over 6weeks to go!
You've recently started your own bodyboard shcool / coaching / training and you're based in Bali a part of the year from what we understood and then based in WA all year long yeah?
This year I'll be in Bali with my family from April till September then home the rest of the year either side of that. We're pretty excited, we love our time in Bali and it's just non stop waves and good conditions up there!
How is it runninng your own school and how was the Bali part this year?
Running my school and living overseas with my family while coaching with Bali Bodyboarding has been one of the highlights of my career for sure. Spreading the love for my favourite sport and passing on my knowledge and experience is very enjoyable plus I get to leave my family to go to 'work' in the waves with other amped bodyboarders!
Are you planning on doing this every year (Bali) or was it just this year?
For the meantime it's definitely just a matter of doing it now while we can because the opportunity is there and my kids aren't in full time school yet. My boy Oli will be in full time school next year so most likely any future Bali stints will just be short ones.
You kinda put contests and the World Tour on hold this year, will you consider going back on tour later on maybe or will you just do a few contests which you really wanna do now that you've got your school going?
I know I definitely won't be chasing contests in 2015, what happens beyond then I will just take as it comes, but I would definitely love to compete on the world stage again when the opportunity presents itself.
Also – maybe not an easy one to answer – but would you have followed the tour in 2014 if the sport had a solid tour with solid prize money allowing the top riders to make a good living from this pro tour?
Well you're right, finances does change everything and moulds the opportunities that you can pursue. However, I do know that I was loving being close to home during a year when my kids were both really young so I've definitely got no regrets in not following the tour in 2014.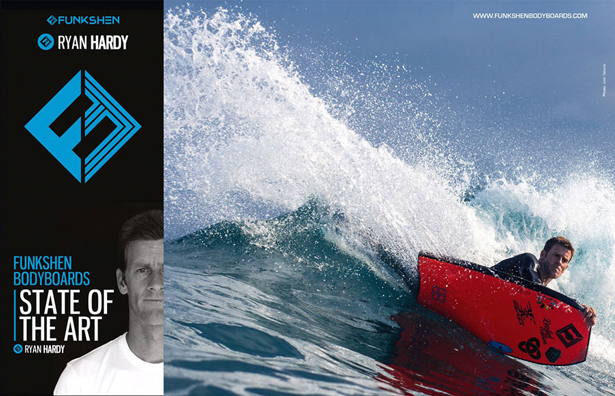 You've recently changed sponsors and went from VS / Stealth to Funkshen / Limited Edition, this coincided with those other changes in your life (less contests, starting your own school). Appart from contracts and / or the money side of things why did you change sponsors or how did this happen? How is the new relationship with your new sponsor?
This happened mainly by a changeover of circumstances, the end of one road with one sponsor and the beginning of a new road with another sponsor.
It's great riding for Funkshen & Limited Edition…the boards and fins are as good as you can get on the market today and the Britten brothers who drive the company are an amped couple of Aussie bodyboarders like myself who just want to see all the riders shredding on their gear and show bodyboarding for the epic sport that it is!
Jarrod Gibson shapes your custom boards still? We're sure readers would love to know what you're riding, core, length, specificities. We know you're picky on your customs and shapes you must have great input on your boards. Do you also changes width or length or thickness according to what kinda waves you surf?
Todd quigley and Jarrod Gibson are both doing some shaping work on my customs which I am STOKED on! I've been getting boards shaped from those two since the late 90's and between the two of them they've both shaped me all my best boards.
I've definitely toned down my pickiness over the years haha but that's probably because I've been through and tested so many boards to the point that I know what works for me now.
Working with today's material options, I generally like to ride a stiffer polypro in warmer water, a flexier polypro like EFC in colder water and always with a stringer. I find those simple combos to be most effective and then you can add in things like mesh for extra stiffness or PRS stringers particularly in cooler water.
Then generally I go for bigger boards in smaller waves, say up to 42.75 for small, down to 42.25 for big waves.
Do you have much input on the stock boards your sponsor releases? Will the shape on stock boards be close to what you ride, even if probably suited and adapted to a wider range of riders / customers?
Yes I'm in close contact with Jarrod Gibson who is stock board quality controller over at the board factory hq in Taiwan. Jarrod is great because he is such an avid bodyboard enthusiast and particular to the very last detail so I have full trust in him overseeing the production of the stock boards over there.
The stock boards are tweaked a little from my customs to allow for the fact that I'm tall and lean and not all riders are going to have a body shape like me. They are definitely similar in their shape, but just slightly modified to suit a variety of body shapes and sizes.
Where do you usually surf in WA? You live in Margaret River yeah? What's the typical Ryan day?
I usually surf close to margaret river where I live so places like gas bay, booji, box, rivermouth.
A typical day is of course based around the surf and my family schedule. If the surfs gunna be pumping I've gotta plan things so the family is sorted and taken care of so that my wife can be all good with the kids once I head out to hit the surf for a filming session or coaching session.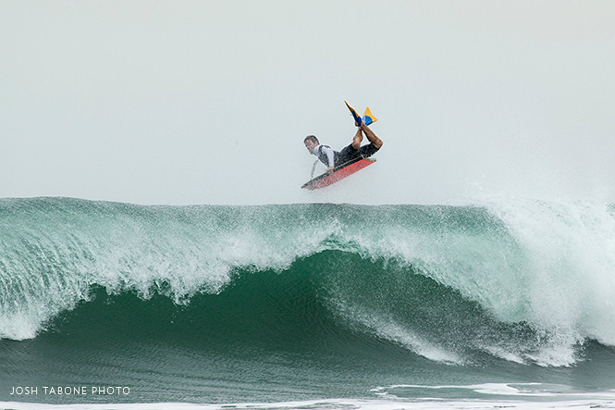 We've seen you surf with your son recently, taking him on the boogie and gliding with him on foamies, how is that? Does being a father changed your perpective on life or you pro-career in a way?
It was super fun going out with my son in the little waves of Bali and probably the purest surfing experience I've had since I was riding my first whitewashes. It's all a game to him at the ripe old age of 3 and it makes him laugh so much and he's so free and happy to be rolling around in the waves…it reminds me of the feeling the ocean gives us and why we're so attracted to go back for more and more.
Being a father is like discovering life all over again as you discover the world through your kid's perspective. It gives you great purpose and motivation in everything you do and any boredom or spare time you ever had in your life before kids certainly vanishes!
What can we expect from Hardballs for next year? More schooling and coaching? Any trips planned with the family or with your sponsors?
Definitely more trips, video clips and freesurfing escapades both at home and interstate and overseas. That's my major focus in my riding right now is pushing my equipment and ability in freesurfing right now while I still feel physically in my peak and taking my riding to the limit in some epic waves! Also, plenty of coaching and time with the family in between.
Are you filming or preparing a short clip or podcast for the upcoming months?
Yes I've been filming in both the Canary Islands back in December and around home lately for a Funkshen clip that will be coming out in the near future.
We've asked our readers on Facebook and on your sponsor's page on Facebook if they had any questions for you and we got these questions from fans for you:
- Any chance to see you in Europe any time soon?
I was in Canaries in December! But otherwise it's a possibility to do a freesurfing trip with the Funkshen/Limited Edition team sometime in the second half of the year.
- You've got the same sponsor as Winston from PWD, Unite, do you listen to PWD? Before a good session to get amped maybe?
I love Winston's energy he pours into PWD and it's something he's always had back when I knew him as an aspiring bodyboarder, he was always super amped. I think their music is great, but I actually don't really listen to music to amp me up before surfs. I just like to stay present and feel the amp come on from the natural surrounds.
- Is Hardlyfe III in the making?
No it's not in the making.
- Describe your personal board?
My favourite board I've been riding lately is a nicely worn in 42.5 PP stringer mesh. It's brown deck/black rail/orange slick, it's actually about 9months old and in the cool waters around home it feels really good especially in powerful waves. – Do you drink coffe in the morning? What kind?
I only ever drink coffee to keep me awake when I'm driving. I never drink it regularly in the morning or before surfs.
- Last but not least, from your buddy Matt Lackey, we had to ask: How many degrees in Celsius was the Meat Pie that was force feed into Jarrod Gibson as a birthday present?
Haha Lackey loves that one. I was only just praising Jarrod's work before and yet it didn't stop me from slamming a pie in his face after a night on the town to celebrate his birthday several years back. You'd have to ask Jarrod the exact temperature but I know it was up above 200degrees and he spent his actual birth day in hospital being treated for 3rd degree burns on his nose, lips, cheeks and eye lids. Shit that sounds bad! Sorry again Gibbo!! His mates and I thought it was the funniest thing ever at the time though until 5mins had passed of us rolling on the bakery floor laughing and we realised Gibbo was missing. We found him across the road at the terrigal beach shoreline dunking his face in the shorebreak in between yelling "CALL AN AMBULANCE!!" Ouch, I'll never live that one down!
Thanks a lot for your time Ryan, do you have anything you'd like to add or any message to pass along?
Cheers Theo!! All the best with Spongercity yew
Cheers Ryan
Theo – Spongercity.com