RING OF FIRE II – By Rob Isambert is the latest DVD out of California, USA. It's quite rare these days to see a DVD from the US. The DVD takes you to the south pacific, indonesia, hawaii, baja california, the pacific northwest, tasmania, mexico and california. It features the best californian riders as well as the biggest names in the sport. Rob worked about 3 years on this project and it's definitely a must see.
To read the full review click on the below link.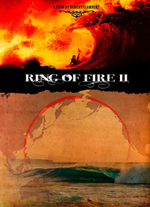 Ring Of Fire II starts where Ring Of Fire I had stopped and Rob and his mates go for another world trip around the globe to surf some of the best waves you can find. What's great with the DVD is that it makes you travel to places and see waves you've never seen before. The editing is super clean, the quality of the footage is really good and the music too. Most of the sections have a good soundtrack choice.
It feels good to see footage of mexico with Jacob Reeves and Phil Harnsberger again! There's dope filming in Padang, tasmania, sick south pacific reefs, california ramps, fun wedge footage, a couple waves from Chad Barba, some footage from hawaii and northern california too. Everything we liked in US videos before is here and we loved it. There might not be Australian-style and massive slabs all the way but it's great to watch something different.
The main protagonists are US riders like Mike Lepiere, Charles Marbella, Mike Creed, and Beans who all charge and shred with style.
The DVD is about 65 min. long and will make you wanna buy a plane ticket for a far away place and go surf !
Now available on the Spongercity Store with worldwide shipping.