The TURBO Mason Rose Model is a classic and performant drop knee shape. It's one of the rare 100% dk boards on the market and if someone knows how dk shapes should be it's definitely Mason and his shaper Glenn Taylor from Turbo. Both Mason and Glenn worked on this template and then had the board produced as a stock board once both were satisfied with this baby. This board has a PE core with double stringers and this is what seems to be the favorite choice for most dkers in cool to cold waters. You've got control, speed and stiffness yet a necessary bit of flex due to the PE core which is softer and flexier and you've got something stiff under your knee and under your foot (the 2 stringers). Click below to read the full review.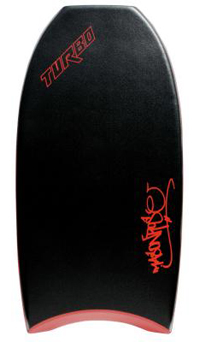 The board is quite wide and has a fast dk template. It's not a template with a rounded nose like some of the dk boards you can find on the market, it's a straight template with a narrow nose and that thing is stable and responsive.
We really enjoyed testing that board. The PE blank was quite thick which made it easy to paddle and take off early, then gain some speed early in the wave and speed through sections that we wouldnt have made with a thin blank or a shorter board. For DK you definitely wanna ride a board at least 1 inch longer than your prone board. You need more buoancy and as much speed and control as possible. The board was great for landings to thanks to the PE core which seems to absorb shocks better than the PP. The width and buoancy makes this board easy to ride even for someone who doesnt dk very often so you can use it to progress or use it as you main dk board if you're a dker, it will work like a charm for everyone.
Unlike dk boards with rounded nose we felt like we didnt have to adapt to this board. It worked well straight away for us. We tested the board from 2 feet to 5 feet in clean, nice sandbars and it worked well in all conditions. Maybe its good buoancy would be too much for bigger waves if you're quite light. If you're heavier than 70kgs or 75kgs (155LBS and over) that board will definitely work for you in heavier waves.
The board is also available in PP core for added stiffness or warm waters. Size are: 41.5 – 42.5 – 43.5
Technical details:
SIZES: 41.5″, 42.5″, 43.5″
CORE: PE (Polyethylene)
DECK: 8lb NXL
SLICK: Surlyn ®
TAILS: Full Crescent
RAILS: 50/50
STRINGER: Double Stringer System
FLAT BOTTOM: Designed for maximum speed
GRAPHIC: Mason Style tribal dragon