INTERVIEW done on the 4th of MARCH.04 by SPONGERCITY.COM – pics © eddie & playbord.com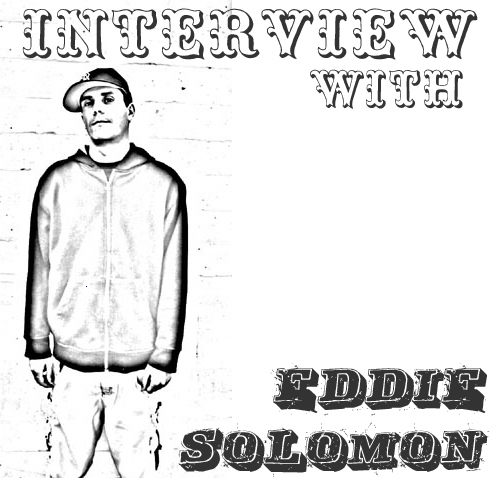 It hasn't been easy to get this interview, we've tracked Eddie down like crazy hunters before getting in touch and interviewing the man himself. Eddie is a charger and lately got a lot of coverage showing how good he is when things get O of C both in and out of the water, let's see what he's got to say. He just got back from Hawaii :
1- Introduce yourself (age, birthplace & stuff like that)
I'm Eddie Solomon and am 25 and I was born in Southern California
2- So where are you right now ? still on the rock ?
Just got back from hawaii, am gonna go to Tahiti next week
3- How was the season so far ? You got some good footage already ?
Waimea shorebreak and KEIKI were sick this season
4- Wassup with 662mob.com ? who's idea was that to get a new website up ? who's doing it ? and what's ur job ?
With 662 we are just trying to provide the best media online and product at the cheapest prices. It was a combined idea by a few of us like DRE, myself, Sasaki and all the boys were down for support. I handle the media and the team.
5- It's kinda new for you to have a job at 662mob and try to surf at the same time ? how do you do that ?
Nah I barely work. Just post stories when I am on trips of my friends and us going out getting buzz on . It's mickey mouse work.
6- Looks like you and Dre are always travelling and surfing together, you motivate each other to go surf and charge ?
Yes We love to PUISAI beastmasters together
7- We at playbord.com try to incite people to travel as much as they can and see what's going on outside one's country and local beach, how important do you think traveling is ? (for both ams & pros, surfwise & culturewise)
Traveling is key. There is soo much variety in the world both in waves and people.
8- You obviously love heavy beachbreaks like waimea, where does the love come from ? coz cali ain't the best place for heavy beachbreaks except for the wedge ?
No crowds is key to my beachbreak love when its big. It's hard to paddle out and shift peaks. I only like Wedge in California. I go to Puerto a lot
9- Do you like contests ? yes/no why ?
I like contests when it is huge like in tahiti or pipe etc…
10- You've grown up in Cali, who did you surf with back then ? Do you still surf with them today ?
I surfed with my salt creek boys till i was 18 then i moved to hawaii for half the year every year since high school and travel the rest of the year.
11- How much time do you spend in Cali during the year ?
One to two months tops never ina row
12- What's the OC buzz on thing all about ?
Its all about good times and going big in and out of the water.
13- What do you think of the bodyboarding status today ? (compared to surfing or other so called extreme sports)
I dont care, I'm not gonna kiss anyones ass to get afew extra bucks. If bigger companies don't want to support forget them.
14- Who influenced you ? Who influences you today ?
DRE since I met him, and still DRE
15- Do you stand up surf ? What do you think about the stupid spongers/surfers war ?
I stand up boogie board summer time at my local beach break in Cali. I laugh at any surfer that thinks they are hardcore in California. They have no clue.
16- What's your favorite board shape, materials ? dimensions ? are you involved into your board shape or you just ride what they give you at Morey ? also what's up with Morey, looks like you're almost the only pro left in the team ?
I just copy Andre's shape. My stock Morey board is pretty much Andre's shape. I just ride stock boards. Yeah I wish we had a huge budget for a bigger team.
17- Favorite places to surf ?
Pipe, tahiti, puerto, and wedge
18- Your 5 Favorite bbing videos ?
NF videos, Tensions and ROT
19- 5 All time favorite riders ?
Skipp, Dre, Erik Lorton, Daniel kaimi, Keith sasaki
20- Last time you thought you were going to die ?
Could have died at keiki a couple weeks ago, but i shook it off.
21- Last time you drank too much ?
When andre and i spent the night in jail to nights ago. It was good times.
22- Last time you surfed ?
Hawaii ten days ago, Next time will be Tahiti next week.
23- Last time you lied ?
Last time I talked to a girl in the club.
24- Worst wipe out ?
Maybe at Keiki a lil while ago. You can see the photo sat 662mob.com I took a concussion and have nerv damage. No feeling in my hand for a week.
25- BUD or BINTANG ? CORONA or DESPERADOS ? WHISKY or TEQUILA ?
BINTANG I miss Bali, Corona, Tequilla.
26- Wanna add anything to this interview ?
Just go big puinsai, feel nothing.
Thank you's ? Love you's ? Hate you's ? Fuck you's ?
Thanks to Tom Morey for inventing the bodyboard. Thanks to whoever invented beer.
Massive waimea shorey for Eddie !