4PLAY RYAN HARDY – HYPERFORMANCESERIES – POLYPROCORE – One Stringer – Size 42
About 399 AUS. Dollars – 300 Euros in Europe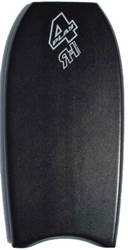 Dimensions (About) : 42 x 12 x 21 @ 17 x 18
4PLAY boards are now made in Taiwan (no more Australia made) and it seems that we've lost a bit of quality and craftmanship but the shapes are still really nice and the boards seem solid.
The Ryan Hardy model i surfed was really thin, with a PE deck and PP core. I loved it, it was realllllly fast and the thickness was freaking cool for cooler and colder water. It's not thick enough for summer time and warmer water though. The straight shape went as fast as a formula one but wasnt really reactive for turns and carves. Easy to surf, easy to spin, easy to hit the lip and even OK for DK in frontside. DK Backside is another history with those prone board.
The overall shape and dimensions are great on that Hardy board but the details and precision were not that great. One of the thumb grips was bigger than the other one and the nose thicknes wasnt the same on the left side and right side of the nose…
All prone riders who love fast boards and simple shapes wil love this board. If you're taller than 5′10″ (1,77m) and not too heavy you will love this board. Heavy riders watchout, this board is really thin and might bend too much for you.