VS RYAN HARDY – POLYPROCORE – Crescent Tail – One stringer – Size 41.75 – About 389 AUS. Dollars in Oz – 260 Euros in Europe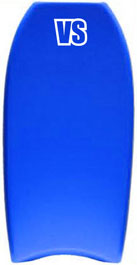 Dimensions (approx.) : 41.75 x 11.5 x 21 @ 17 x 17.5
Although this Board has been designed and fine-tuned by Todd Quigley from QCD and Ryan Hardy himself, the VS stock boards are made by Mez and his team in Java with some of the best materials you can find, a hi-tech CNC machine and buzz laminator technology. The PP core and PE deck & rails are the perfect combo for a reactive and fast board in cool to warm water. This year the PP felt stiffer than usual.
The shape of the Hardy PP crescent tail model is definitely prone oriented as you can guess, it's not that good for DK although the shape tolerates a little DK ride once in a while. The board felt really good as soon as i jumped on it, the shape is quite narrow, fast and responsive. The PP+stringer combo feels a little too stiff at the beginning in cool or cold water but once you've ridden the board a couple times it gets a little more flexy and feels good. It will be perfect for summer time and warmer water. If you're looking for a flexy board or cold water weapon go for the PE core, not the PP core i reckon. Anyway, the board was quite easy to ride although its narrow wide-point will not help unexperienced riders. Good riders will love it, it drives and holds well in hollow waves and works good in both small and big surf. The board is very thin and it feels great in your hand.
The design and details were perfect on the board i tested and the quality of the stock boards / craftmanship is super good. The VS Hardy is a great prone board for experienced riders. It's available in 41.25 or 41.75. I'm 5′11 and quite light and i felt that i could have ridden a smaller board in bigger waves than the 41.75 However i wouldnt recommand using the 41.25 if you're 5′11 or more it will be too small and too narrow to be confortable. The tail is quite narrow on those boards and and it works better in bigger or real hollow waves. I felt that narrow tails and smaller waves dont mix as well as narrow tails and bigger waves.
Also available from VS: the Rawlins board which pretty much feels like the Hardy one from what i've seen and tested so far; and the PLC board which feels really good (tested in 42 the other day) and really polyvalent actually (prone+dk) because it is larger and has more of an "egg" shape. It's fast and responsive in PP – suits bigger riders in size 42 than the Hardy in size 41.75 comparatively.