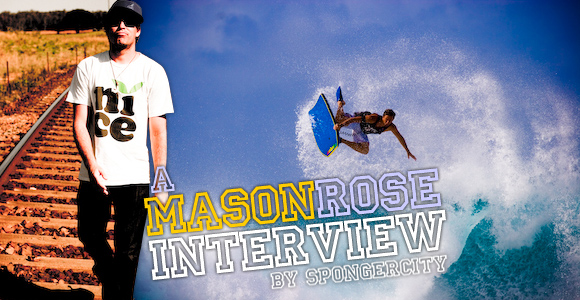 Check Mason's bodyboarding photo gallery: 1 | 2 | 3 | 4 | 5 | 6 | 7 | 8 | 9 | 10 | 11 | 12 | 13 | 14 | 15
Check Mason's breakdancing photo gallery: 1 | 2 | 3 | 4 | 5 | 6 | 7 | 8 | 9 | 10 | 11 | 12
When it comes to drop kneeing there's a only a couple names that come to mind automatically: Roach, Lyman, McGee, Jack The Ripper, Kyle Maligro, Phil Harnsberger, Crispin Hughes, Fred Booth, Lackey, and Mason Rose.
We might have forgoten a few names, please forgive us ! Anyway, you can't talk about dk without mentionning Mason Rose. He's one of the most talented and stylish Dker out there. Huge backside snaps, massive frontside airs, throwing buckets every turn, and a unique and powerful style.
Unfortunately – or so it seems – we didnt see too much footage of Mason recently and havent heard about him for a while. This until we read his interview in a recent Movement Mag issue. Is Mason back in the light ? Nah. Don't call it a come back. Mason's been here the whole time, ripping and doing his thing, working and producing films and events.
We had the great opportunity to interview Mason two weeks ago, right before he leaves home and travels to Europe in November. Here's what Mason has to say:
Hi Mason, how are you ?
I am very good, because i am coming to france to meet all the boogie down brothers! yewwwwwwwww!
Can you introduce yourself ? where do you currently live ?
Yo whats up my name is Mason Rose i have been riding for 20 years, i was born in a coastal town called Port Macquarie on the east coast of Australia, started travelling when i was 15 years old, im 6″1 and weigh 80kg.
So you're about to hit the road, jump in planes and travel around the world hey ?
I work hard for 5 months of the year filming and editing things like music videos, commercials, dvd's, i also produce events, after i finnish all this work i have enough money to start bodyboarding, travelling and relaxing…So this year i have planned a trip to europe.
I have to work filming in france for 5 days in november but its something im looking forward to anyway…I im filming the REDBULL BCONE Breaking aka Breakdancing championships. After this event im heading to the coast to surf and shoot for my movie…i hope to see some tallent there cause i know there is alot!
What's the itinerary ? where did you plan to surf ?
Germay first off in mid october, i am going to surf the rapid wave before they knock it down, after there im going to switz for a bboyin event called circle kings, after that spain, after that paris france for 5 days then heading to the coast on the6th nov…im only going to be surfing the french coast unless there is some dope ass swell in the canaries.
It seems like we've seen you a lot more in the recent mags, does this coincide with you having a new board sponsor ? or did you just get involved more with bodyboarding again ?
The polatics that come with being a professional sometimes sux balls especially when all the Magazine editors are your age and once upon a time used to compete against them back in the day – they tend to palm you off to the shadows, i have had some dope shots never ran in mags cause the editor has no clue on the real shit! they'd rather give you some pop song photo for all the lollypop lickers (ohhhh shit – snap!), the thing is i try and stay under the radar, i don't give myself to every photographer or video maker out there, i like to work with ppl on my level, innovators not money makers!…
I love bodyboarding and i won't ever stop riding, either if its stand up on the bodyboard, dk or prone i love feeling different out in the water, i always try and make my moves, no bail outs and moves just for the shot and i try do them as fresh as i possibly can, i guess what im trying to say is if your seeing alot more of me lately its not because ive been more involved but maybe because people are getting sick of seeing the same thing….I have alot more years in me yet!
You've got one of the best styles out there on the knee, where did you learn to drop knee like this and who inspired you ?
AKA LYMAN Period!
He is style, the natural steez – there is aggression and then there is smooth power, Aka is smooth power and thats my inspiration, he is the ultimate!
…just a bit below that would be roach, its funny because there are 2 names that come to my mind and i think its because im older…roach and aka….legends of the sport and ive dedicated my life to their teachings "RESPECT"? I feel that these guys should be classed as the best, i feel i will never reach that level they reached, i will try but i feel even if i tried my hardest id still only get half way! I need to move to hawaii and for the Dropknee Kings! hahahaa…I just like to add not only do they ride with style but they cruise with style to and they are both so very humble not to mention KOOL!
Who inspires you today ?
Prone wise and new gen wise i'd say in no order, mitch rawlings, Pierre, micah mcmullin, dubb, bud, garth mcgreggor ohhhh ishhh there are alot of dudes from hawaii that i respect and the reason im coming to europe is to discover the tallent there…i want to see it for myself…i want to meet everyone i can i want to do an instore promo and talk to the bodyboarders, get to know them and see the personallity of the people…Lets make it happen….Show me some love France!
You used to prone and be really good at it from what i can remember, you never prone anymore ? what motivated you to stop prone and go DK 100% ?
I used to compete heavily against the best and without seeming cocky or up myself i used to win events against hardy, kingy, stewart etc..
Style was my focus…I have alot of tapes of me when i was younger and in the movie im bringing out you will see me proning…hahaha…its been along time but i still can do it, i feel i could still win an event but after a while of proneing competitively i felt like i wasn't getting the chanllenge i needed to stay motivated and ive always been versatyle in my riding and so i decided one day i want to make my mark in dropknee history and it came naturally, i remember when i was 12 years old i got my first compliment for riding dk…
I started as a surfboarder at the age of 5 and did a few comps at 10years of age but i just wanted to have fun in the barrel and so i got on the boogie and been maseboogie ever since…
Is it hard to be a pro DKer nowadays ?
It is hard to promote yourself and make movements in the industry, Its hard cause alot of the mag editors are prone riders, back in the day dk was a focus and the editors were dk riders…In this day and age people have no idea of the history/heritage of the sport, i see so many dk riders but alot are not motivated to become famous or professional, they just do it because they love doin it and i respect them for that, i also resent them for that…for me i wanted to educate and motivate and for them to not want to make their mark makes me feel like ive failed…
DK riders are always going to be the stand outs, the bad kids, the rebels but also the leaders…a dk rider is an indervidual that has respect among his peers!
Do you have to work or does bodyboarding covers all your needs and you're pretty making a living out of it ?
Turbo Bodyboards have me working for them as directional marketing director, I get paid as an employee and a rider and so it works well for me as i have a say in the production of the boards and if you don't know already i am one person to be very presice with quality, materials and also the shaping, this company will deliver the best quality boards for bodyboarders worldwide, there are no shitty bad quality boards in the production of Turbo, period!
We are about bringing the original heritage of the sport back and making moves that will help bodyboarders around the globe…
I am also scouting 2 team riders for Turbo while in Europe…so impress me yo! I want to sponsor you!
Do care about the Dk scene in Oz ? the bbing scene in general ? or you jut do you own stuff and this is it ?
I care about the world wide scene…we need to filter out all the wack companies who are not putting back into the culture!
I like to do my own thing aswell but i do have alot to say about the direction of the sport ive been here since the beginning, ive seen the mistakes and have been fucked over by my sponsors to many times!…i never want to make anyone go through the ish i have gone through…if anyone i feel i deserve to be where i am now in the sport…i have payed alot of dues during my carreer and all i want to do now is make sure we don't make the same mistakes we did in the past…i want to teach our industry and learn from all the bodyboarders around the globe!
Any kids you've seen ripping on the knee ?
Like i said there are heaps of kids…HEAPS but who are they? what is your name? i want to be inspired but you gotta make an effort, have a dream, want to travel, want to tyr and beat me!…I don't want to name names because its not fair…ill say one kids name…keegan cronin, he could be good if he opens up and breaks free! but like i said its up to the soul of yourself, maybe you just want to do a 9 to 5 job and surf on the weekends but i say thats a waist of time and tallent! get out there my brothers!
Do you stand up surf too ?
Yes, but only twin fin fish tails or my danny kim bodyboard…and only in waves under 4 feet.
When will we be able to watch your world trip footage or pictures ? Are you going to film and shoot ?
I am working on a mason rose movie…due out hawaii 2009…as for the photos…i will have a photog with me shooting the whole trip..his name is conan whitehouse He has alot of tallent…and is a funny mother f#cker hahahahaaa…I will get as many of the shots to as many mags as i can worldwide…
Do you mind letting us know what kinda board you ride ? Which dimensions ? Core ? Stringers ?
I forget my dimensions cause i have been testing alot of different styles for my new Turbo limited edition board but i use PE or dowe core with 2 stringers, 50/50 rails i think i use a 10.5 inch nose…I freaking love my boards…i seem to not fall off these days bhahahahahaaaaaaaa….jokes
Do you have any kind of preferences when it comes to shapes, rails etc. ? It's pretty hard to find a good dk board, how did you find what works best for you ?
Years of riding and testing…i feel simple works best, my Turbo pro models are exactly what i ride…you gotta try it out to believe!
What's your favorite bbing video ?
fumanchu
untouchables
untimate wave riding vehicle
no rules
boogie knights
rot
the inside
bodyboarding video magazine
hawaii nine o
hawaii nine 1
hawaii nine 2 etc etc
momentum 1
Favorite wave in the world ?
Lighthouse Beach & Sandy Beach
Where do you reckon is the best place to be a dker ?
Hawaii – Sandy beach and rockypoint + LHB
You'd rather ride a long and shreddable wave in indo with plenty of speed and walls to pump like crazy or a hollow, intensen, heavy and short slab in oz ?
indo for sure…but id rather ride a wave that has set ups like a skate park…i just want to hit lips and fly like Jordan…
Are there any limits to dropknee big waves or really hollow waves ?
Comes down to the rider but yes i feel dking big waves is limited…dk is about the moves and the style, for the big waves we should turn to the jack stance, outside grabrail bottom turns…board innovation aswell, tow ins and ish…i want to do it for sure but for me…i just want to do hectic turns, floaters and air tricks with combos…i want to do everything as stylish as possible…i want to stand out when im the only bodyboarder out in a pack of surfboarders etc…i want to be powerful!
It seems all good dkers have had problems with their knees doing snaps or floats, did you hurt yourself before ?
bhahahahahaaaa….yeah i did but it was my fault…i didn't wax up my new board and was trying some stupid floaters, came down wrong and tweeked my knee…oh well…what doesn't kill you only makes you stronger hahahaaa.. werrrrrrrd!
You're also a super good breakdancer, does this help with bodyboarding and vice versa ?
Hell yeah…it helps alot, im not super good but i love it and more focusing these days on funk styles rather than bboying now…i love the music or more importantly I LOVE MUSIC!
What helps most to get fit ? dancing or bodyboarding ?
Bodyboarding…but dancing isn't far behind, i feel breaking hurts more and recovery takes more time but you also build more strength with bboying…
What kinda music do you listen to ?
anything from funk to bosa nova, hiphop to disco, newjack to electro, soul to RnB, gangsta to Rap, pop to rock, slow pace to indie…i love original artists!
Did you prepare a special playlist for your world trip ? WHat's gonna be rocking in your headphones on the plane ?
bhahahahahahahahaaaaaa…..just like any wax digger i don't give out my pepper hahahahaaaa…i got alot of mastered vynal and if your putting on a party ill lay down some party tracks for everyone to get down to but i ain't seriously giving the track to everyone who reads this on a platter…hahahahaaaaa….any good dj will know what im talking about. werrrd!
I hope we'll see you during your trip ! We'll let our visitors know where you are and where they can see you surf mate ! Do you wanna add anything to this interview ?
Respect the oldskool, learn from the best and have fun cause thats the main thing…having fun with your friends! my friends are my family and i love them till im in a grave also don't let the world get you down and come between your friendships…the governments are fucked up and there plan has been set in place way before our time we just gotta keep our eyes open and ears to the ground and if ish don't seem right….stand the fuck up and make it known! its end days if we let it be end days…
Just go surf and make love! stay healthy and keep learning. have fun TODAY!
Peace to the zulu nation and check out my site www.sevenshadows.com if you want a copy of the sevenshadows dvd i Produce. PEACE to all dk riders and peace to Spongercity.com !
Maseoneskee 2008
Cheers,
Theo
Spongercity.com