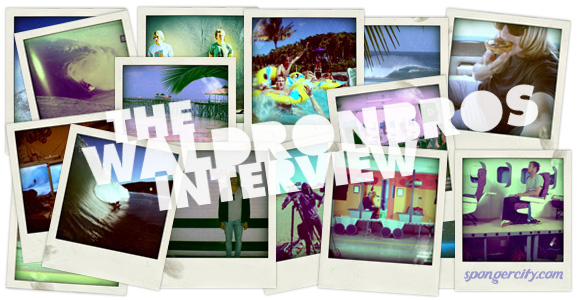 Click on the artwork to start the Waldronbros interview slideshow or click on individual slides here: Ben Player Movie Project Scene 01, Ben Player Movie Project Scene 02, Ben Player Movie Project Scene 03, Chad filming, Chad Invert, Chad and Kane, Chad Portrait, another Chad pic, Chad underwater, Hawaii, Kane, Kane again, Philippines trip, Hawaii, There is no i trip, Hawaii, There is no i trip (2),
With the imminent release of the BEN PLAYER PROJECT and its premieres in Australia this January it was the perfect timing to interview movie makers Chad and Kane Waldron. Just so you know those 2 brothers are behind 80% of all major bodyboarding DVD release since their first movie VAGUE OPPORTUNITIES. Since then they've released DENIS, RAISED HEIGHTS, LEROY, INSERT NAME HERE, THERE IS NO I, the BOOM! Podcast and NMDtv episodes, and now the BEN PLAYER PROJECT. Here's what the bros have to say about the upcoming BEN PLAYER movie, about filming, editing and making a living out of bodyboarding flicks:
Howdy guys ?
Hey mate!
Can you quickly introduce yourselves for those who dont know who the Waldron Bros are ?
Chad: Hi everyone I'm Chad.
Kane: And Im Kane. We have been making Independent Bodyboarding films for the last 5 years. If you're not familiar us our title consist of, "Vague Opportunities", "Raised Heights", "The Joker" (edited) "Denis", "Leroy", "Insert Name Here" "There's No I" and the most recent one "The Ben Player Project"
So you've just finished editing the whole Ben Player project and you're now working on the business part and premieres organisation, how did the whole project go ? When did it all start?
Chad: Its been insane editing this movie. It's usually Kane that does most of the editing (I might have done 1 section for each DVD) but just recently I have found a new love for editing and I took the reins on this one so to speak.
Kane: The Project started 3 years ago just after BP won his first world title. I was speaking to Ben on the phone and we both wanted to do it so we went from there. The Project went really well, there were a lot of ideas that got tossed around in the early days until we found something that we all liked.
Who was behind this project ? Ben or you guys ? or NMD/Mez ?
Chad: It is us and Ben behind it, along with Murray Bell working on it too. The 3 of us worked together on ideas and direction of the film and Mez from NMD supported the film from the start and we could not have done it without him.
We've seen some pics and behind the scenes shots in Movement Mag, and it looks like you guys really went creative and worked on some cool ideas like that plane scene. How did the whole creative process go? Did everyone have ideas and share them or did Ben have some things in his mind and really knew where he was heading ?
Chad: When we all first sat down and started talking about the DVD, we all pretty much had the same idea. We all just kinda bounced off each other and ended up with these crazy studio scenes and motion graphics that tied each section together smoothly.
Kane: That wasn't our original idea, but it was the better one that we brainstormed down to. Just something fresh and fun to watch and create.
Is there a lot of bla bla bla in the movie?
Chad: haha, nar. We tried to cut back on that as much as we could. Sometimes its hard trying to tell a story without the blah blah blah but with the help of Murray's skills in after effects and illustrator and some smart planning we were able to tell the story with very minimal talking.
Kane: We didn't just sit down and interview people and hope it would make sense once cut together. So I wouldn't call the talking in this movie Blah Blah. It is actually interesting and as Chad said we put a lot of planning into it.
Is there any old footage of Ben when he was a kid and stuff or is it pretty much all new footage like Ben seemed to say in that Movement Mag article?
Chad: There's a little bit of Ben when he was younger that we used to show everyone that he hasn't always been the insane bodyboarder that he is now. About 90% of the DVD is new unseen footage.
Kane: We basically, just fast forwarded the first 15 years of his bodyboarding career.
Most biographical movies are pretty boring (my point of view) until the Hardlyfe II which was really nice with beautiful images but not really creative though. Do you guys think you pushed the envelope with this Ben Player project and manage to make it both creative and cool and well-edited?
Chad: Yeah, I would like to think that's what we've done. It's sometimes hard to make it both creative and cool. Sometimes the creative can just get in the way of the cool surfing, but I think we have found a happy medium in the both.
Kane: I actually prefer biographical bodyboarding movies, when there is an amazing bodyboarder with a great story, they are such a better subject for a movie. As for being creative, that is really someone's point of view as well. A lot of kids think its creative when you use editing effects and flashes of light leaks from film, but that's all been done before and I'm over it. I just set out to create a great movie that captured Ben's world class riding and his personality and achievements.
Last time I saw you guys in Oz I wondered how you manage to work together as brothers (you Kane and you Chad) coz there was more time when I thought you were gonna kill each others than edit together in nice "I like my brother" mood. hahah. How did this project go ? No killing each others?
Chad: HAHA yeah we do argue a lot when we work. I don't like giving in to Kane and Kane doesn't like giving in to anyone, but this time around I was by myself most of the time when I was editing and then Kane was only round to check up on things and add a little direction here and there.
Kane: Working with a family member is HARD, I don't think anyone should do it. Brothers fight enough without work involved. You should see the Player's fight, they're hilarious, and Toby always wins too, ha ha. We worked better together this project Chad and I are both passionate about what we do and being brothers we just say exactly what we are thinking that generally turns into an argument. But being able to say exactly what you think about someone work only makes a better product. And when the person you're making the movie on is such a perfectionist and passionate person then you're pushed even more to produce a better product.
Any exclusive info about the movie ?
Kane: I quit.
Chad: Kane Quits.
Where did you travel and film for the Ben Player Project ? Which destinations? How many years of footage ? How many hours in the Waldron editing room?
Chad: We went to Hawaii, all over Australia, Chile, Canaries and Bali.
Kane: 3 years of filming, plus archive footage from other people.
About 2 months in post production.
Ben came to your place and edited with you ? Did he really had a lot of input in this project ?
Chad: I would have liked him to come and edit with me. But he was very busy training for the world title. We emailed him sections and he replied his feedback. It would have been a bit easier if he came to WBP HQ to edit. But it wasn't possible
Those premieres are gonna be crazy hey, what do you expect ? Thousands of crazy kids running around. Millions are sharpies pens to sign autographs ?
Chad: We loved the old NF prems back in the day. That's what got me into it in the first place. We want to try to bring it back. This is our biggest tour since Vague premiered at a local surf club in 04. We have 10 stops in total starting at Sunshine Coast and going all the way to Perth. Tickets got put online 1 week ago days ago and they are already selling like hot cakes. ITS GOING TO BE HUGE, you would hate to miss out.
We heard the DVD was only gonna be available at the premieres, what's that all about ? (Keep a copy for me by the way ! heheh). What's up with distribution for the rest the world ?
Chad: It makes it cheaper for the customer. Instead of paying $20 for the prem then another $40-45. Now all its going to cost you is $30 and you get the lot. Overseas distribution is going to be the same as we usually do it. Unless someone wants to put the events on for us over there????
Is this the biggest bodyboarding film you've done ? Was it way more expensive to produce ?
Chad: Yeah for sure!!! Usually it only takes 1 month to edit our DVD's. But Ben's vid has taken us a good 2 months or more to edit, due to the fact we have ridiculous amounts of footage. And we are making one of Ben's dreams come true, so we wanted to put as much effort into it as we possibly could. I think we have succeeded. This one was a lot more expensive cause of all the motion graphics and Studio shots we have had made for the DVD. But in the long run that's what's going to set this DVD apart from all the rest of the muppets out there.
Kane: See this is why we always argue. The motion graphics and studio pieces are good. But I'd be going to watch this movie because the level of Bodyboarding is higher than any other DVD we've ever made. Heck, I'm going to throw it out there, it's a higher level than any other Bodyboarding DVD I've ever seen, every section is good enough to be and intro for our previous movies.
Can you actually make a living from being video makers or is it really hard? Kids always think it's a dream job and it's easy and you can make money but I reckon it's definitely not that easy and it's not lucrative. What's you're say about this?
Chad: We have always found it very hard to live off the DVD's. It would probably help if we'd stop buying new camera equipment all the time. We have both always had part time jobs to get us by. It's kind of tough too cause its hard trying to find a job that will let you bail down the coast at the drop of a hat.
Kane: I haven't made one single cent out of this biz, I work every weekend in a bar and kids wonder why I'm there. We are not Hollywood and we can't afford to have people pirating our work. Why do you think Chris White stopped making Tension, No Friends have stopped and many other as well. There will be no bodyboarding DVD's in 2 years I think. I know that one QLD rat named Brandon Thorpe Waluew doing it and to be honest I would keep doing it if there was some money in it, but you need money to live off.
Alright, enough with the Benny project questions. Back to the Waldrons Bros. What are you gonna do when the premieres are over?
Chad: Detox
What's your next project ?
Chad: I want to concentrate on the BOOM podcast. That thing has taken off. We have been top sports podcast in Australia for a couple of weeks straight on many occasions beating ALF, car racing, BMX and even skating. I think it's a great medium and the kids love it cause its free. Not to mention it's a great way to advertise your products/brand.
Where are you going next? On vacations? On a film trip again ? Stay home?
Chad: Here is that exclusive you wanted. This will be the LAST DVD we will work on together. Kane is moving on to pursue other things and I will only be doing the BOOM! podcast's. I'll only make another DVD if I'm contracted to do so by a company.
Do you guys wanna add anything ?
Kane: Thanks for your support Theo
Thanx a lot for time and collaboration !
Cheers,
Theo