One of the cool things about working with Will George last year and this year on the new TOYS 2009 and 2010 logos is that we got to ride a custom Toys board shaped by Dan Sivess himself and keep the damn thing after we tested it! We test-rode a custom 41 "THE GAME" model with PE, mesh and one stringer.
All TOYS for 2010 are shaped at the Mez factory in indo and Dan Sivess has been shaping some customs and samples for the 2010 production, which is what we rode. The cool thing is that the stock boards are just as good as the customs with the same exact materials and refined shapes so TOYS will treat us with nice shapes and solid boards once again this year. Click below to read the full review.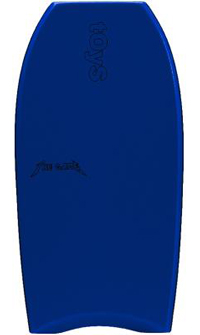 The "GAME" model is a polyvalent board (more prone oriented though, like 70% prone – 30% dk) from TOYS. The rest of the TOYS range includes the AKA boards (AKA and AKA II board) as well as the GNR board (Will George's Board model) and the FENDER model (the performance all around prone board).
The GAME has a classic polyvalent template with a slightly lower wide point and more width where as the FENDER seems to have a narrower template and higher wide point for prone. Anyway, we tested the THE GAME board in small summer surf and the added width worked like a charm in small waves for prone. We were able to pass sections and ride faster without sacrificing length and riding a longer board which means that 360's, airs and tricks were still easy to do but we still had more surface to gain speed and float thanks to the extra width. Awesome in small surf !
We didnt ride the board in drop knee coz 41 is too small for good DK for how tall we are. If you're like 175cm (5′8" or 5′9") or smaller then yes, you can ride it DK. If you're like 180cm (5′11) or higher then the 41 is too small for DK obviously and the perfect polyvalent shape if you wanna ride 50/50 prone/dk is the size 42. We got that 41 board for prone and stuck to prone the whole.
The first thing people tend to do when riding smaller waves (prone) is to get a longer board but if you wanna keep your board length, then just add width to your board and you'll see how cool it is in smaller waves. This is what we did with that 41 board and we totally re-discovered our surf in small waves and had fun. Makes surfing in smaller waves fun again.
If you're a heavier rider THE GAME board could be your everyday board for sure in size 42 for example. The shape is classic and effective, fast and responsive. The PE core with mesh and a stringer is the perfect combination for projection, control and tricks. In summer or warm waters the PE core can get too flexy and the board could be less durable for sure but it feels soooo good. If you want to add stiffness of durability just use PP instead of PE and dont use mesh to keep the PP flexy.
The Dan Sivess shaping precision and details are awesome and the board looked sweet. The 2010 TOYS production is on its way to shops around the world as we speak so check them out coz we're telling you there're good and well designed by Will at TOYS and well produced by Mez/Dan and their team in indo.
Available in 40, 41, 42 and PP or PE
Technical details for the 2010 stock board:
Core: PE
Stringer: Carbon Fibre Stringer
Deck: 8LB Non X-Link
Slick: Surlyn Channelled Slick
Channels: Graduated Channels
Tail: Clipped Crescent Tail
Rails: 50/50 Double Rails.