We never heard of CONGO BOARDS before they actually contacted us and asked if we wanted to ride a board and test it. F#ck yeah, we're always amped on trying new boards and equipment so we said yes! and waited for our test board to be delivered. We didn't know what to expect, the boards on their site looked fun and they had a completely different approach from other companies with mostly just DK and Standup boards. So we got a 42 dropknee board, PP 2x stringers, solid construction, with hip grooves on the deck, contours on the rails, tibia contours on the tails specially made for dropkneeing, channels, a rounded nose and a massive nose rocker (not just the slick rocker, but a real rocker on the whole board).
While looking at the board and its details we couldnt help but notice that the construction and style was similar to Jimmy Linville boards (JL Designs – Made in Oceanside USA) and fair enough, after checking with CONGO BOARDS they confirmed it: All boards are shaped by the man himself in California: Jimmy Linville. That's why it's all DK and standups boards we suppose, with sick rockers and contours. Jimmy is such a good shaper for these designs. Read the rest of the review by clicking the link below…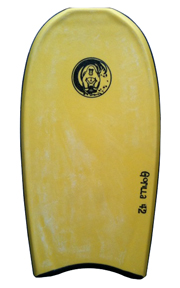 The Gorilla model we tested comes in 6 standard sizes from 40 to 50 inches. Ours is 42. We tested the board in pretty cold waters and had a couple really fun sessions with it for this board test. It's really stiff (specially in cold waters) and very fast, it's quite buoyant – because the board was quite thick – but it was really responsive and the nose rocker and round nose on the board is really fun to ride.
Here are other pictures of the board (click to open and enlarge): The bottom, the nose rocker, the channels, the tibia grooves contour.
It's completely different from standard DK boards, it feels like your riding a surfboard but it's been shaped and designed for DK. Backside is the best side for these boards we reckon, it's a got a sick way to behave, stay wherever you want in the curl and drives well and easily. The board was stiff and the cold waters didnt help so it felt a little too stiff for good powerful snaps where you can feel the board bending under your knee but we bet summer wtaer temps and/or warmer waters would make the board flexier and give it more recoil for snaps and big turns.
We rode it prone on a couple waves and although the speed you get from this rocket is good it's hard to control the board in prone position or do tricks because it's quite thick and the nose is built for DK stance only.
The board is easy to ride and really forgiving, no need to be the best dker on the planet to tackle this shape and have fun. You'll have fun straight out of the box and it's a keeper for either small summer days or big powerful surf on long walls and pointbreaks. It's a cool DK board, fast, responsive and fun to ride. We didn't get to ride it standup but it surely is fun to ride it with no flippers in the shorey or even use it as a skimboard if you wish.
We've sked CONGO BOARDS for more info and they say they can pretty much build any board you want (they're obviously specialised for DK and standups) with heaps of options to choose from and all customs are shaped by Jimmy Linville himself which is a good thing. Can't be wrong with Jimmy's shaping skills. All boards are sent from the US within a couple weeks we reckon.
Congo Boards is a family owned business that provides the highest quality Bodyboards constructed with the best materials available. All boards are shaped and Made in the USA. For more info check their website: Congoboards.com