Our first girl interview on Spongercity.com – Currently #2 on the womens bodyboarding world tour, Spanish bodyboarder Eunate really impressed everyone with her riding and her approach of the media/communation side of things, releasing super cool video clips and imagery, taking care of her riding as well as the image she creates and really showing everyone what girls are capable of on a boogieboard. We thought it was high time to interview Eunate and learn more about her, her riding, her training, her projects and views about the bodyboard scene etc.
Hey Eunate, how are you ? What are you up to ?
Hello, I am back Home, just arrived from Venezuela. Tomorrow: ready for surfing.
Can you introduce yourself for those who don't know you ?
I am a professional bodyboarder from the Basque Country (Spain) and now number 2 in the world tour ranking.
When and where did you start bodyboarding ?
When I was 12-13. During summer time.
You're following the world tour all year long yeah ? How is that ? What's the girls world tour like ?
Yeah, I'm following the tour, I'm looking for the world title, and I have to compete in every event. It's not a long tour, we're spending a lot of time in the same places, and sometimes the competiton stresses me, but it's still the best job in the world.
The girls tour is funny, we always have free time to enjoy and also to surf and push each others… we are all girls who love bodyboarding so this makes a good family.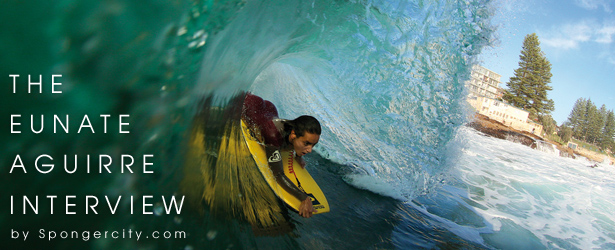 What do you do when you're not travelling on the tour ? Any other trips ?
Yeah, I like to travel when home is flat, also for fun, photos or videoclips…
Do you have a training program for freesurf and/or contests ?
Yeah, I do, to pursue my dream I have to push myself in every surf, and try and try again one more time to reach what i'm looking for, then I always check the video and with my trainer look the points to improve. I wanna improve my freesurfing then results will come after.
Who do you travel with and stay with while you're on the tour ? Are the girls really competitive between each other ? How is the vibe on tour ?
The vibe is good, but hard at the same time, everyone is looking for the same, everyone wanna be the winner so you really need a crew where you feel comfortable, to trust. I have close friends, they are my sisters, Catarina, Loly and Karla, and we wish the best for each one, playing clean.
What's you favorite wave to surf and why ?
Its hard to say just one, I love Canarys, La caja, El hierro, El Confital.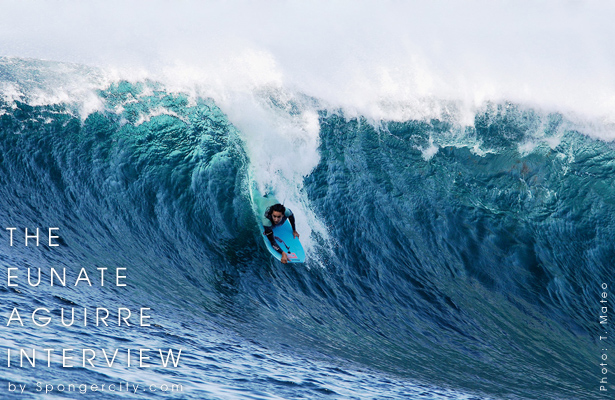 Is there any place you've never been yet and would like to go ?
Philippines, I was about to go 2 years ago, my dream, but a contest on the same dates made me cancel it at the last minute.
Who do you look up to ?
In Bodyboarding, Neymara, Karla. They are great persons & great bodyboarders. In life, don´t know yet…
What's the typical Eunate day ? Can you describe your typical day at home ?
Wake up early, surf at 8-9, check the footage… relax at home, typical stuff of contracts, website etc. after lunch another surf, and around 8pm physical training.
Is it harder or easier to be a girl in the water these days ?
Could be easier, i never had a problem in any pretty unfriendly local spots… but sometimes also, there is not a friend to talk about girls stuff.
It seems that the boys get way more attention than the girls (in videos and magazines), where does this comes from ? What do you think of it ?
Well, I think it is relative, we are less in number, and also the mens have being working more on this side with videos and pictures. We have to work more on this side, look for good pictures and then probably mags will publish them.
Surfer girls (standup riders) recently got way more coverage than before and they start to get a lot more noticed in the mags so maybe this will eventually happen as well for bodyboarding, what do you think ? Girls are making a massive come back ?
I think the bodyboarding sport, after a few hard years is getting bigger again, and behind this, more girls, more sponsors and more mag coverage will come.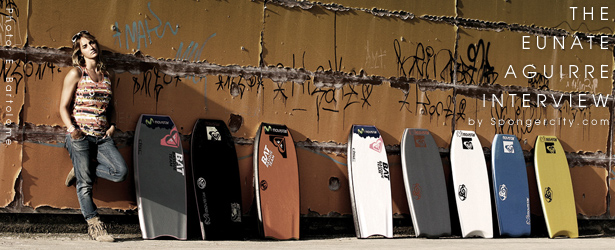 We've seen you riding on DSC custom boards, what kinda boards do you like ? What core and dimensions do you like ?
They are my favourite boards, Dan Sivess is shaping for Roxy Bodyboards. His boards give me the speed and drive i need on a board… I like PP with mesh, really good combo, but not long lasting boards.
What would you tell to younger girls who'd like to start bodyboarding and competing, what kind of advice would you give them ?
Have fun, feel the wave and love the sport…the rest will come… for competing, never give up!
The latest video clip we've seen of you on Vimeo ("Bonjour Eunate") is really really cool. Do you plan to release more videos like this ?
Yes, I plan a couple more episodes for this year, we'll see what's next…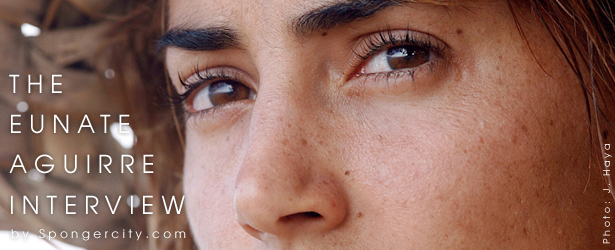 We were really impressed with your website and really good imagery, videos and designs. How important do you think it is today to have a good online profile with photos and videos ?
The image is as important as the results, if you win and you don't sprut out nobody will know about you… So you need a good internet spot, wich is the best publicity channel today.
Do you think it would be easier to get recognized and get coverage if you were in Australia like it is for mens nowadays ?
I don't think so, I think Australia is creating today the best bodyboarders, and the market is bigger there but everyone has their own market at home, everyone has to feel important at home.
In all Europe Spain seems to be more bodyboarders-friendly (same as Portugal) unlike France or the UK, do you agree ?
It's just in terms of marketing and history…. Portugal has always been involved with world tour events, which is good for new generations coming up, Spain also, Canarys is really strong too with plenty of good bodyboarding waves.
What's your plan for this summer and then the rest of the year ?
Keep surfing, keep filming for more episodes, and keep looking for the world title.
Would you like to add anything ?
Thanks and sorry for the Delay

Thanks Eunate!