It seems to always take longer than expected to interview a rider and then release it on the website. We saw Mitch on the Goldie a while ago and had a little chat and Mitch was keen on doing the interview so we were stoked, got home, started writing down the questions for the interview and this is where is got hard: This is bodyboarding legend Mitch Rawlins ! We can't really come up with shit questions and we can't bother Mitch with lame questions. So we did our best to keep the interview interesting and with the quite-recent launch of FOUND boards in both OZ and Europe we thought it was the right time to release the interview . Hope you enjoy it.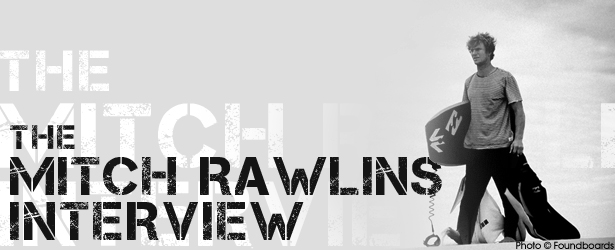 Hey Mitch, how are you ?
I'm pretty good
What are you up to ? Are you home now ?
I am currently at home doing this interview
How is Found Boards going ? Lots of work ?
Found boards is coming along nicely and yes it is an incredible amount of work but only because I want to make bodyboarding better if I did'nt want bodyboarding to progress it would be easy.
You're now about to get the boards distributed worldwide, how's that ?
Awesome ! Well I hope to one day have my boards everywhere where people bodyboard but right now I am just in Australia and starting in Europe soon.
You had all boards manufactured in OZ for the first batch of boards last year and now the boards are made overseas with your friend/shaper Jarrod Gibson managing the production, it's a big step that had to be taken in order to be able to deliver a larger amount of boards ?
Well this is half true I still get quite a few boards made in Australia but yes I am getting boards made oversea's and they are amazing the fecility that the boards are getting made has some great opportunities for me to experiment with board design and manufacturing which will help progress the sport.
What about customs, are they going to be made in OZ or overseas at the factory ?
Custom boards will be made from the Found boards factory on the gold coast of Australia which will be available very soon.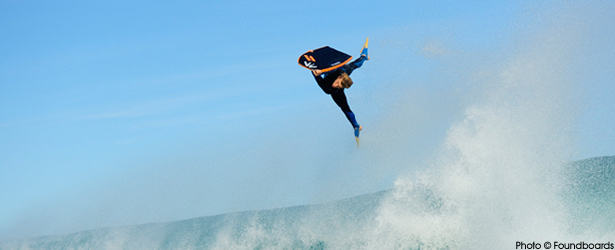 Do you still have time to surf as much as you'd like to ?
Sometimes I don't have the time to surf as much as I would like but I really enjoy it a whole lot more when I do now.
We saw you surf in Mexico while watching the live webcast of the IBA contest and seriously think you were ripping out there. How was the contest and the trip ?
The contest was great I think the mexico event will be an event that will inspire a lot of bodyboarders for years to come.
Are you going to follow the whole IBA tour this year ? Are you going to Reunion Island as well ?
Regretfully I can not follow the whole tour this year as setting up found boards is a huge job and I am committed to that.
I have dedicated enough time to some event's to hopefully ensure me a top 24 spot in 2012.
So I will be focusing on 2012 for contest that is for sure.
Your own video project HIDING FROM COMFORT has been released recently with one of the latest Riptide issue and it's a great success, with sick images and angles, super good editing and quality. How long have you filmed for this ? Who worked with you on the project ?
James wise, chris bryan, tom hannam wherte the major filmer's and editors.
And thank you I am glad you liked the film. And I want to thank everyone that has watched the film I did it for you guys.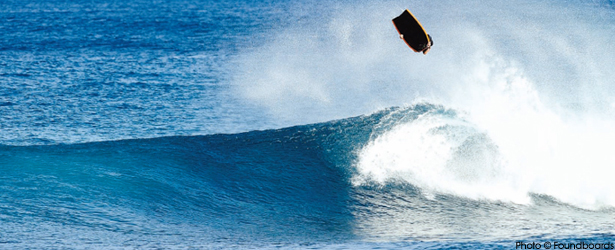 On your DVD it says PART I – When is PART II coming ?


Part 2 is a work in progress and it will surpass hiding from comfort in terms of performance.
How did you manage to build your own brand (FOUND), film sick footage, do contests and get coverage in the mags at the same time ? Do you sleep at night ?
It's a lot of work, but for the most part its enjoyable so I get to sleep at night.
You seem to have your own approach to filming, doing business, surfing, contests etc. How would you describe yourself and your approach of the sport ?
I really care for the sport of bodyboarding and I try to represent it the best and honest way I can.
The Lookbook you released (with photographer Trent Mitchell) for FOUND last season was absolute gold, we thought it was a great idea and no other brands did this before. Are you gonna do it again ?
Yes I am going to do another one and probably one every year it's a great way to celebrate each year found boards has and I like to share that with everyone because everyone is involved in some way.
Who inspires you in the water and who has influenced you so far as a bodyboarder ?
I get a lot of drive and motivation from a lot of rider's out in the water these days I can't narrow it down to one person.
Regarding business, who inspires you ? How do you get the drive and motivation to make it all happen and follow both a pro bber carreer and a business man career ?
To be honest I just get up in the morning and get going and try to enjoy it as much as I can weather I'm surfing or building found boards as a company.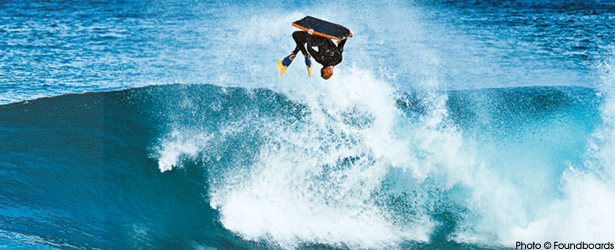 We've seen you skating and stand up surfing a bit, do those other disciplines influence you and how often do you skate or surf ?
I surf a little and I skate a little and I love them both and they are great disiplines that you can apply to bodyboarding for progression
What can we expect in the near future from Mitch Rawlins ?
Catching good waves
Working on found boards
Focusing on contest
Supporting the sport of bodyboarding through contest and events.
What music are you listening to these days ?
Triple jjj
What boards are you currently riding ? (PE ? PP ? Stinger(s) ? Shape ?)
pp revival series
What's one location that you've always wanted to surf but haven't had the opportunity to yet ?
Apocalypse in indo
What's your last session ?
Knights beach south australia
What's the last mag you read ?
Riptide, Movement, LeBoogie
What's the last thing you broke ?
Can't remember
What's the last time you cursed out loud ?
Today I got my wisdom teeth out and it hurts
What's the last thing you bought ?
Some m&ms
Last party ?
My house had a bbq with friends
Last barrel ?
Few days ago
Last time you were scared ?
Mexico event paddling out
Last interview ?
This one
Last words for this interview ?
I think bodyboarding is an incredible sport that will never stop growing and progressing. Keep having fun and check out foundboards.com
Thanks heaps Mitch !
Cheers
Theo – Spongercity.com Editor