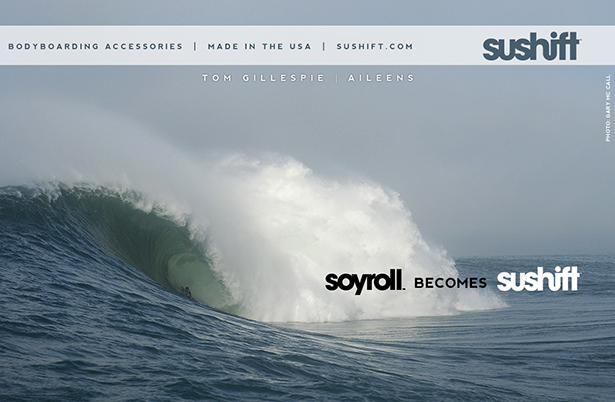 The bodyboarding accessories brand Soyroll becomes Sushift™ – The brand has announced its name change and re-branding in a recent press release which you can read below. All the products and team riders remain the same, onle the name changes and the brand known for its premium quality products will keep on delivering top notch bodyboarding hardware as well as expanding internationally. Its website, online shop and products haven been re-branded with the new name: http://www.sushift.com
Sushift™ International team consists of: James Kates (AUS), Jack Johns (UK), Ivan Pulic (AUS), Wade Masters (AUS), Brett Roldan (USA), Tom Gillespie (IRL), Lucas Vergnes (REU), Greg Vorster (CAN), Rui Pereira (POR), Francisco Bessone (POR), Germain Romigou (FRA), Mael L'Helgoualch (FRA), Alan L'Helgoualch (FRA), Nicolas Marianelli (FRA), Hugo Lagarde (FRA), Julien Le Sehan (FRA), Jonathan Jay (FRA), Jean-Sebastien Geffroy (CANARY), Derek Crater (FRA)
Press release:
November 2013 – For immediate release: Premium Bodyboarding Acessories brand Soyroll™ has a new name! Say hello to Sushift™ – Today marks a new step in the evolution of the company and its international growth.
We're happy to announce that the company will now be selling products and operating under its new name: Sushift™
The international expansion of the company and the distribution of our products will now happen under this new name that we're exciting to reveal today. New products and a larger accessories range are coming in 2014 as we'll keep pushing our quality and objectives even further. With a solid team of international riders and unmatched products quality Sushift™ will not only be all that Soyroll™ was but even better.
Our team, our products and our love for neat designs and hi quality products and service remain the same.
Cheers from Sushift™, see you in the water.
Comments off