EASY MONEY // RUSH & DARKSIDE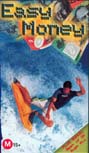 Nice overall video, the latest from Rush & Darkside, lots of arty/super8 footage, good riders and a few up and comers, good waves, the editing isn't that good but the quality of the overall video and the level of the riders make you forget this.
I dunno if it's the VHS tape or what but the quality of the images doesn't look too good.
Music is allright.