MULTIPLE CHOICE (NF7) // No Friends Prod.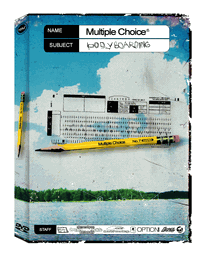 No Friends 7 ! Uh. I couldn't wait longer to watch the video. As usual, Stoker, Crawley and the rest of the NF crew delivered. Super good video. All rock n' roll soundtrack. 2 versions of the video available on the dvd.
The Canary island section is awesome. Skipper's section is awesome too, as well as Hubb's and Ross's. Roach's sharing his section with Lackey. I wish Roach had his own section but they probly needed more footage to have an 'only Roach' section. Anyway, as usual, the NF vids are rad with good arty footage and editing. Feels good to watch a good bbing video once a year.
The dvd's got good bonus stuff, the roach bonus is pretty fun to watch.