VAGUE OPPORTUNITIES // WALDRON BROS. Prod.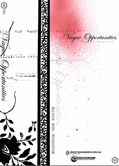 I forgot i had this video to review ! Arrrggg ! It's such a good one so i gotta say it's a shame i didnt review this one earlier. It's never too late though. So here we go : This vid is another Ozzie one, it's pretty good actually, it's a lil bit in the vein of a Nofriends/Stoker video. I mean it's kind of arty, footage-wise and editing-wise. All the riders rip so hard it's unbelievable : Hardy, the Players bros, Winchester, all the young ozzies, jeez, they all surf as good as it gets.
Hawaii winter season is covered in this video, the pipe comp and Kingy's performance this year, the fights, the fun, the waves, everything. It's got some super nice Oz footage as well. I liked the Virtue-Hubb section with a Hip Hop groove, those guys fly so high it's hard to film them, they're outta your screen half the time. Another section features Skippy and Stewart : you can tell Stewart showed Skip a few tricks at pipe, both surf super smooth and master the banzai pipe and it's lil sister backdoor.
I think it's pretty much it. The vid it quite long, it's a good investment, the music is mostly Emo-Indie-Punk stuff with a lot of good tunes and bands (like Sparta/at the drive in or Something Corporate to name a few). The footage quality on the dvd is good. I'd give this one an A- or B+