THE JOKER // Liquid Gold Pictures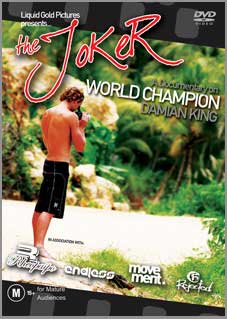 THE JOKER : This is Damian KING's own video. It's more than just a biography of the world champ (even if you'll watch Damian & his buddies surf when they were young). The footage of Damian's trips around the world and friends are cool, the Phillippines trip is good, the Puerto footage is awesome, Ben Player and Dave Winchester rip every wave appart. There's another good section with Kingy and Toby riding huge lefts.
Damian lost his mum last year and the video shows how he found the motivation to be the world champ after this terrible loss and how good and trained Kingy is.
The editing and footage is good but a biography on video is never really exciting and the music isnt that good. If you are one of Damian's fan you should get the video though.