CHEAP THRILLS // Ralph Sanchez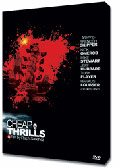 Ralph Sanchez's long awaited video. Ralph's been filming for No Friends and now he's back with his own video, and it's alllllll good. Feels good to watch a video that really shows how it goes when you're travelling around the world surfing the most crazy breaks and meeting dozens of well known and lesser known rippers. Ralph and Brandon travelled to South Af., Australia, Cali. and Hawaii and came back with a shitload of cool footage. The video is as rock n roll as it gets, the choice of music and the editing (quite simple – semi arty sometimes) are good. The footage quality is good as well, the only things i didnt like were the titles font but this is minor.
It's a refreshing video that aint copying the standards of today's bodyboarding videos which are basically a rip off stoker's unique style and editing. Ralph came up with his own style and ideas and it's as fresh as it gets.
Some riders have their own parts : Hubb, Skippy, Brandon Foster how's gonna show you Dking has a bright future and that some Dkers can use their rails and dont fall all the time. Stewy has his own cool part in the bonus as well. Oh, it's also in the bonus that you might laugh the most…
Playbord note : Check playbord's quicktime videos in the MEDIA menu and watch the small CA. Video, you'll notice that playbord.com filmed one of Will George' snap, the same as in Cheap Thrills – at seaside reef in September 04. Pretty cool uh ? No ? Nevermind.