LIQUID MOMENTS // Oceanic Images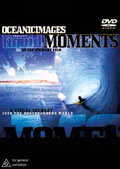 This is Ian Stewart's latest video. Really nice footage, the filming is good and the quality of the footage is good, nice colors and life style / nature footage. The destinations : Hawaii (2003-2004), Tahiti, Australia (E and West) and a couple waves from Chile. The music is from 3 different music labels and lots of bands in the soundtrack have more than just one song, which means the sound track sounds a little bit the same throughout the video. Hip hop music, well, it's hard to edit exciting footage with this kind of music but… it makes the video mellow and made me sleep well after watching it.
The editing is clean and good. It's a good idea not to show the name of the riders during the sections, it makes us focus on the images and the riders, not the titles, but it's a bit frustrating sometimes coz if i recognized 80% of the guys easily i would have liked to know who the other guys are. Only the big names like Hardy, Winny, Rawlins and Virtue have their names shown during their sections. The Chile / The Zone section is cool and the Shark island one as well, with 2 camera angles and good editing. To sum it up, it's a good video, it's got a little bit of everything but the previous Oceanic Images videos were a little bit better. If you're into hip hop music and mellow trip hop sound you wanna get it.