VISIONS // DVmedia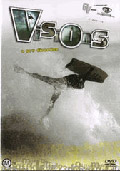 Visions is a really good aussie video. It's got good sections of up and comers such as Liam O'Toole, Jono Bruce, Michael Novy and Thomas Robinson who all rip and it's got sections of other well-none riders : Ryan Hardy, Matt Lackey, and Mitch Rawlins to name a few.
There are a couple cool in-between sections with narration by Mike Stewart and Ryan Hardy which are entertaining and not boring (they could have been boring but they're all good).
Jono really kills it in his part, he's got perfect smooth style and a freakin good level. All the guys are good in the vid anyway and the waves they ride are insane, Australia delivers – definitly.
The music is good (Metal/Emo/hardcore/indie stuff), and the editing is clean and simple. The quality of the footage is good too. Nice overall video.