RAISED HEIGHTS // Waldron Bros. Prod.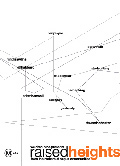 This is the Waldron Bros. second video. Vagues Opportunities was their first effort. This new video is awesome, it's one of the best i've watched in a while, Tension 7 being the other stand out video i got to watch lately. I dont know where to start to review RAISED HEIGHTS. The video's got everything you want : big waves, talented riders, super good footage quality, nice and smooth editing, good music and even cool bonus stuff ! (you gotta check the QCD shaping demo in the bonus section).
There's one thing the video did not have : it's hip hop music, but since i love all rock n' roll soundtracks that was great. Hip hop fans beware – the music in the video isn't necesarily fast and furious but it's more rock n' roll oriented. The two Hawaii parts and the Ben Player part are amazing.
The rookies part is super nice too, Australia has so many good riders that it's not worth naming all the guys in the video. All the big names like hardy, virtue, rawlins and the up and comers (who rip just as good as the big names) like crashy or Harry Dixon will show you how to smoke some heavy lips and get pitted on heavy nuggets with no second thoughts. The DK section is nice but way too short. This vdeo is definitly a must see, it'll get you amped for a whole month and you'll play it a hundred times in you dvd player – guaranteed.