NO FRIENDS 3 & 4 DVD Set // No Friends Prod.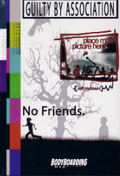 It's not new but it's all good ! and it's on a dvd this time !
Classic NF videos : "This is your life" and "Guilty by Association" back by popular demand…
Both videos are awesome and a must have for any NF fan. If you're an "old" sponger you'll be amped to watch those again and if you're a newbie you might be curious and try these, you wont be disapointed. It feels good to watch the Roach, Skippy, Hubb, Ross, Ronk or Botha's sections again.
The DVD has a couple bonus sections, they're nice and cool to watch but short.