ROADHOUSE NF8 // No Friends Prod.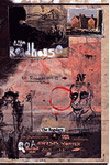 The latest release from No Friends Production ! Aaaah No Friends ! An institution now…
Filmed by Crawly, edited by Stoker. Great video but this time the video feels a little bit like it's not really a No Friends video because you wont find the sections you were used to when watching a NF video. (no Roach section for example). The video is well edited, the choice for the soundtrack is really good, the riders rip, you'll see a lot of new faces, new waves, cool angles to shoot and nice video quality.
To sum it up : all the standards that made No Friends videos what they are today are here but the video lacks of something. You dont really feel the same vibe that you find in the other No Friends video.
It's really hard to compare videos though and even if this one feels different than the other NF productions, let me tell ya, it's still out there in the top 5 boogie videos for 2005.