DENIS // Waldron Bros Prod.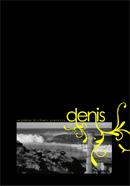 The Waldron Bros'. third video. Like their first two DVDs, this DVD is really good. Some will say that the reviews on playbord are too 'soft' and that i'm cool with all the vids i watch but here's what i gotta say about this one : it's the DVD i enjoyed the most since TENSION 7. It's fuckin' nice, it's got good music, awesome footage, original ideas, the editing is good and the Waldron Bros. definitly have their own style. They added a few cool bonus here and there and managed to get this DVD a little more 'interactive' than usual. You'll choose between two Winny's section for example while watching the DVD, you've got 5 sec. to choose, if you don't Winny will choose for ya ! Bonus sections are hidden, you'll have to hunt them throughout the video.
All the riders and the sections are awesome. The Mexico sections are my favorites, Hardy, Rawlins and Benny P. own the zicatela breaks. The video will get you amped and i'm waiting for their 4th vid. like a kiddo waits for xmas day. (almost). Anyway, DENIS is cool.
You will L O V E this video.