TENSION 9 // Chris White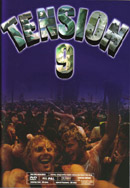 Tension 9 ! It seems that there's a new Tension video every month ! And each one is as good as the other if not better ! I think i liked Tension9 better than Tension8 but this is just my opinion.
What's in Tension9 ? Massive waves, freaking ledges, fat lips, ridiculous tow in and tow out footage, yellow and blue churchill fins, stupid skits, funny shit, good riders, different countries, cool experiences and really nice Hardy, Rocky & Wingy sections, plus awesome footage of Hughes, Schell, Tobes, Lester etc.The level of riding is rising day after day and the means Chris White & the riders put together to film the Tension videos seem bigger and better every time a new video is out.The music is good and diverse, the quality of the footage is good, the editing is better than the previous video and i liked the font used for the titles and riders names. Super good all around video, with fresh stuff and untertaining in-between the scene shit. Gotta watch it !