POVERTY LINES // Jason Bitzer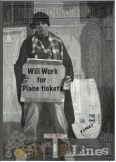 This is Jason Bitzer's latest video. First thing you'll notice : there's a lot of hawaii footage in it, with Maui, Outer Islands and Oahu spots & riders, underground rippers included. The hawaii contests are covered too, the Honolua Bay footage from last year is cool. Then you've got footage from all around the world, with Brazil, east coast USA, Mexico etc.
The good thing about the video is that you'll see a lot of places & riders that you dont get to see in other videos and it's refreshing and gets you amped to go out and surf. The bad thing is that there's a lot of contest footage, the editing and quality of the film isn't as good as 'big' productions and the music aint always that good. Definitly worth watching and entertaining though.