NO FRIENDS 9 : ROAD TO RUIN // No Friends Prod.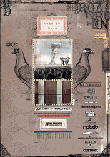 Already the 9th No Friends video ! I still remember watching No Friends 1, it feels like it was 2 years ago. Actually it's been 8 years or something since the first NF video… Ah ! VHS tapes days…
This is the first time that Stoker doesnt edit the video and for those who have enjoyed his editing and filming talent since NF1 this is a new era. This new video is really good, like all NF vids but there's a little something that is different, even if it's not really perceptible. I guess it lacks the Stoker' touch.
Anyway, the editing is still really good, the riders are good, the Hubb section is awesome, the Ross one as well and the Skippy one rocks ! The aussies smoked the Hawaiian barrels and ramps this winter and it shows in the video. So many guys killing it. The 2 backside pigdog barrels in the Lackey section are worth mentioning as well. The micronesia section is unbelievable, it's your dream session. The music is good, the image quality as well. The only thing i disliked was the riders section opening titles, in a sort of big blurry white circle with the spinning letters effect on a black background which didnt match the NF usual artworks and the rest of the video that well. A must see anyway !