HARDLYFE II // Chris Bryan Films.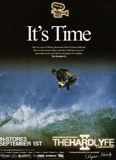 Oh my god! This is what you'll say as soon as the intro starts. It's unbelievable how the image quality is good with 16MM film ! It's clear as cristaline, the colors are amazing, and there's a different feeling from the digital (DV) footage that is normally used for bodyboarding films. HARDLYFE II is filmed integrally with in 16MM and it makes a big difference. Believe me, you gotta see this. The editing is amazing too (edited by Dave Wilcox) and there isnt a drop of water out of place. Super smooth filming & transitions, a good choice of music, although a few sections are a bit slow with 'world music' stuff…
Hardy and his buddies filmed all around the world and you'll watch the best riders on the planet on the best spots of the planet. Hardy's surfing will blow your mind, so will Ben Player's surfing, Kingy's surfing and Rawlins's surfing. Most of the footage is Ryan's footage though, which is great because you dont realise how good Ryan is until you see him rip in a wide variety of conditions and spots. The guy is nuts, so fucken' talented and pro. I loved the Hawaiian section, the mex section and the Secret sumatra section is as good as it gets too.
All the DVD is good and unlike HARDLYFE I there is only recent footage and nothing about Hardy's life. It's just him and his buddies killing it with very recent footage.