LEROY // Waldron Brothers.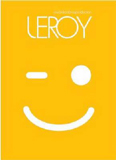 After "DENIS" which was really good, here comes "LEROY". Damn ! it's just as good as "DENIS" ! The Waldron Bros are good, and they've helped raising the bar in bodyboarding DVD editing and filming. It's perfectly edited, it's perfectly filmed with perfect cameras on perfect locations, it's perfect quality, it's perfect music and it's perfectly understandable that you'll buy this piece of bodyboarding motion picture master-piece and enjoy it just as i did.
I only watched it twice before writing this so i dont remember everything i've seen. I do remember the Cook Islands section with all the rookies which is excellent and fun, the massive Tyge Richardson footage from that epic session in Oz with 20 feet waves and perfect barrels. I remember the Chile and Mex sections too, i remember the epic trip in Indo that made me froth like a 14 y.o. kid reading Playboy mag for the 1st time, and i remember thinking that we're living a great time for bodyboarding: so many good riders, so many talents, so many guys motivated, so many new spots, (oh and so little money in the sport).
Anyway, "LEROY" is one of my favorite DVDs, if not THE one i prefer right now and i can't wait 2007 to see what the Waldron Bros. will come up with.