The MITCH VID // Mitch Rawlins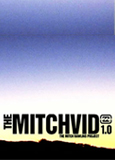 The highly anticipated Mitch DVD is out. It was distrubuted through RIPTIDE issue 155 in Oz. In the recent years Mitch became one of the most popular rider. His perfect style and ability to make big moves look easy, his orange and yellow boards, his churchill fins and crossed legs reverses… Well, now you can watch it over and over on DVD.
The DVD showcases all the latest sessions of Mitch and his friends, all around the world. There's a few really good sessions and great footage and action. The editing and music are not fantastic but it's ok though. The footage and filming angles are good. The highlight of the video is the shipstern section i reckon : do you often see a sponger get shacked like crazy on farken massive bombs and getting heaps of hoots from the rest of the Billabong elite team like parko and andy irons ? Mitch gets towed into a few slabs of the death at shippys and you dont wanna miss this !Go get your Riptide copies before it's too late kids!