VISIONS 2.5 // DVmedia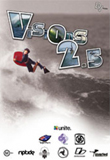 This is the second "Visions" video. It's called "Visions 2.5″ because "Visions 2″ was kinda called back from the shops for "legal" reasons… So this is "Visions 2″ but cleaned from any problematic footage and with a "0.5″ part which is more than a simple bonus, it's almost a second little video after the video. Very cool.
"Visions 2.5″ is very good, i liked it better than "Visions 1″ , the footage is good, and there's fucken great riders in it, starting with Spencer Skipper's part, Jono's part, Hardy's and Novy's parts. Those sections are great and it's worth seeing the video just for them. There's a cool helmet cam section too. The music is good and fits the video style well. The quality of the footage is good and even if some parts of the editing are still not 100% pro this video will motivate you like no other before you go surf. You gotta watch it. It's not super "arty", it's more about great riders, style and skills in the water. You'll get amped, i promess.