AUSTRALIAN MADE // David Child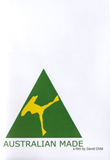 The concept of this DVD is pretty cool: there are so many aussie DVDs nowadays but very few are 100% aussie focused and cover the whole oz coastline and riders. That DVD does this very well, the quality of the image is good, the filming is good too, there's a lot of riders featured in it, including famous ones and rookies. The music matches the editing well and the overall feeling is that this video is clean and good. No very special or original but very cool. The DVD menu with the map of Oz is cool to.
This is a good vid for all Oz riders, and people wanting to travel to oz. So much potential!