This is one of the rare californian video out in 2007 and it would've been a shame for us not to review it coz it's fresh, it's got awesome footage and it's got what most videos dont have: heaps of different spots, heaps of different riders and a taste of what travelling around the world is. Read the complete review…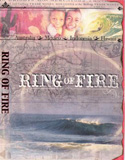 Ring of Fire is a mix of california rider / videographer Rob Isambert and his crew tripping around the world and footage of heavy hitters in hawaii, cali, tahiti etc. The DVD starts with a funny little skit and from start to finish it's both entertaining and impressive. The quality of the image is good and the footage and the diversity of what you'll get to watch is unique with super nice indo (padang padang) angles, super nice tahiti and mex / baja section, lots of good hawaii footage, cool canary island discoveries, plus good and interesting narration by Rob Isambert.
As we said, it's got a lot of footage from Rob's trip with both epic waves and lifestyle footage. It will definitely make you wanna go on a trip and leave home coz there's nothing better than travelling to ride good waves, learn and progress. The editing is simple yet effective with both arty images and epic action. The music choice is good with a little bit of everything from AFI to Madonna (on the wedge section i reckon) which was very enjoyable. You gotta watch this.
Watchout for RING OF FIRE II coming soon.