If you look closely you'll see a face profile on the cover of FACES and when you'll check at the back of the DVD you'll read:
« Through years of patient waiting games, fun times & recreation a species of vigorous teenagers have grown to manifest their potential in the bodyboarding arena. Travelling in Hawaii and throughout Australia, these juveniles have formed an immense brigade. We like to call them… FACES »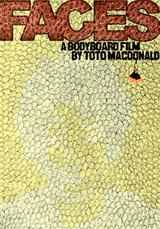 And this is exactly what Toto MacDonald's first DVD is all about: youth, arty, faces. Really good editing for a first effort. Intense intro section followed by a great, young and refreshing video with heaps of rookies: Nick Gornall, Ash Bryant, Jono Bruce, Ben Martineau and more.
FACES has been filmed mostly in OZ and Hawaii. All images are clean and the quality of the video is really good. Heavy hitters at pipe like Skipper and Stewart will keep you frothing while younger guys like french boogers Pierre Louis Costes, Amaury Lavernhe, Leif Emberg and Jake Stone will motivate you to charge and push yourself harder more than anything for your next session.
FACES has a cool and special mood, good music and even if it's a bit short (35min) it's definitely a must see. We wish there was 1 more trip on the video than just Oz and Hawaii and maybe more full riders profiles but Toto will certainly make another killer DVD very soon and it will probably be another must see dvd ! So stay tuned for more.
Reviewed par Davo at Spongercity