Damn we've been lagging on Reviews and the Dot Dot Dash one should've been done way earlier but we got caught up with new web projects, designs and stuff and didnt get much time to write down all reviews. Anyway, Simon Fisher released Dot Dot Dash a while ago this is the Dot Dot Dash review: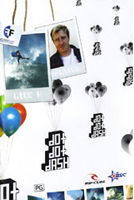 The DVD starts with a fast and explosive intro and you're immediately all stuck on your seat and ready to watch the rest of the video. The rhythm of the DVD is quite fast and you dont really have any slow parts or lows in the video. It's a quick and explosive mix of pop/rock/indie/metal music with a simple yet effective video editing. Most of the editing job has been done on titles and transitions which are really cool. The transitions are like little polaroids shots and you switch from one polaroid shot to another. The titles are cool with the name of the riders and some of the music ohhhh ahhhh yewwwww and lyrics. The DVD features a good section from Nick Ormerod, Bunting, a few waves from Ryan Mattick, a trip to Tahiti, some incredible sessions of Benny Player, absolutely smoking his local spot and killing it all around the world. There's also a short Toby Player section, Asha Dolman section, helcam footage, a good and solid Jose Marquina section, freaking good waves from Grizzler and everyone at the end as well.
It's been filmed on a lot of different locations and spots, with heaps of new angles and unseen stuff. The footage is moving/shaking a little bit sometimes and the quality is not always top notch in term DVD image-wise but nothing bad at all. It's a good DVD to get motivated before a session, it's quite short (about 32 minutes) and has cool bonuses: Tahiti, and wipeouts. Dont watch the wipeouts sections before you go surf though. Heavy shit in that section and massive facials.