One of the rare USA production in 2007, HAPPY DAYS by Juan Farfan (Chula Vista Production) pleased us with its nice and clean style and the diversity of footage and moods that could be found in this movie. Read the full review to see why.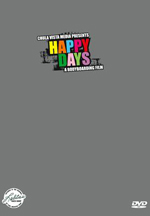 HAPPY DAYS might be a "small" production and wasn't supposed to be distributed worldwide (but it probably is now), it's definitely not an amateur DVD that we watched. The editing was clean, the footage was good and the quality of the image good too. The titles were simple and stylish, and nothing in the editing or video looked amateur. Filmed in the US (both east and west coast), in Mexico, in Hawaii, and Oz, the DVD features heaps of different riders and spots, not only the big names like Ben Player and Winny but also rookies and underground rippers from East and West coast.
The music is a mix of Rock / Hip Hop / Pop, slightly different from what we usually hear in other DVDs. The DVD reminded us a little bit of older US DVDs like "ADOLESCENCE" back in the days which also had a hip hop soundtrack, and which we really digg because even though it's not all "pro riders" and "massive waves", at least we can relate to the riders, sessions, trips and spots. There's a good mood and feel emanating from this video and we hope we'll get to see more from Chula Vista Prod. soon !