HOW TO by David Child has a pretty self explanatory name… the DVD will teach you how to do most bodyboarding moves in no time. Read the rest of the review to see why and how.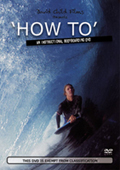 HOW TO is an easy and cool way to learn or re-learn all the bodyboarding moves you know. Just sit on your sofa and push 'play' ! …well it wont be as easy as it sounds to learn how to do a perfect reverse air but it's a start. The DVD is well presented, with chapters and a cool intros with little post-it notes to skip from one section to another, from beginner level to pro level.
I watched the whole DVD and although i mostly paid attention to the harder tricks and not necessarily the easy / beginners tips i was pleased to see that even a beginner will quickly understand and catch the essence or bodyboarding while watching the vid but i was mostly stoked to re-learn my moves (or the ones i dream to stick) properly. Yeah, even if you think you've got what it takes to do a perfect crossed-legs 360 air you will learn something while watching this.
There's good tips from pros and whether you're a beginner (or wanna show your girlfriend or boyfriend how to bodyboard to take them out with you during your next session) or a good rider the video will help you. I was surprised to see that all my mates wanted to watch the HOW TO dvd when they found it next to my TV. They all secretly had a move that they wanted to perfect and they all tried to learn or get some tips while watching the vid.
The only thing i would have liked to see in the DVD is maybe more slow-mo's to avoid having to slow-mo manually and also more dropknee tips for bbers out there who wanna learn how to dropknee properly. Maybe David Child will release a HOW TO dropknee video hey ? would be awesome !
To sum it up: really good if you're a beginner, and useful for certain moves if you're already good but want to perfect your riding and dont really have a pro or someone at your local beach to help you progress.