One of the first 100% South African DVD we got to review. Definitely worth it ! The video showcases the South African talents and spots and also trips to Hawaii and around South Africa. Read the rest of the review below.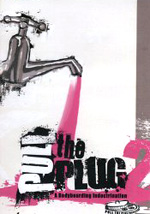 Pull the Plug 2 is quite long and full of action with heaps of good riders from South Africa + Aussies and a couple more stars like Hubb etc. in Hawaii. The video has a pretty diverse soundtrack that matched the moods and riders pretty well, it's got tons of different waves and spots that we're not used to see on videos and tons of good riders that arent necessarily known worldwide but rip like crazy.
There's funny little skits in between sections and the editing and titles are good and simple. The quality of the video comes from the diversity of the spots and sessions. It definitely made us wanna got surf. The wavehouse sections are pretty amazing and some of the riders must have broken bones on that thing hey ! Good footage from Alistair Taylor, Botha and all the SA rippers. Lots of DK also in the video which was great. The quality of the footage is good, there's no fuzzy / blurry / shitty images, it's all clean and good.