We should say the long overdue review. We lagged so much on "There is no i" and "Insert name here" reviews that it's fuckin' unacceptable. Kane and Chad, i'm sorry guys, i suck. I've been wanting to write up a great review for this DVD ever since i first saw it coz it's one of the best DVD i've watched lately and i just never could find the right words to describe it. Anyway, here's the review and it's worth reading it now if you never purchased this DVD ! (has anyone not purchased it yet though ?)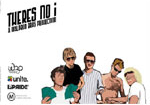 THERE IS NO I is all about 5 pros travelling with 2 Bros. Hardy, Novy, Winny, Bunting and Singer have travelled the world for almost a year with Kane and Chad from Hawaii to Oz to Chile etc. and everything's been filmed from a cool insider's view. It's like reality-TV but it's bodyboarding, it's some of the best riders out there, and it's the best cameramen out there. The editing is the best you'll see in 2008. It's smooth, has great transitions, the title and intros are insane (reminds me of the Forum Snowboards DVD a while back which was awesome) and the quality of the footage is unbelievable. I dont know what kinda equipment the Waldron Bros use but they're not kidding with it, let me tell you.
Action-wise it's awesome, lifestyle wise is funny and entertaining. The boys have travelled to Hawaii so there's great Hawaiian action and stuff, there's good keiki shorey footage also. They've travelled / roadtripped thru Oz and surfed insane wedges, they've travelled to the Philippines to make you froth and they've surfed Chile reefs like you surf a 2 foot beachbreak.
You have to watch this DVD and own this DVD, it's one of the rare productions that is not 100% raw action stuff, it's got a story behind it and it's interesting to watch and learn from it.
I must say that the packaging was top notch too. It's a got a little booklet to read, it's got pics in it, it's got quality paper, and it fits the DVD like a glove hey ! This is good stuff. I dont let anyone borrow the DVD nor the booklet from my personnal Spongercity DVD collection.
If you like AROUND THE WORLD IN 40 DAYS (was free with Riptide mag couple issue ago) you will LOVE "There is no i".
Watchout for the INSERT NAME HERE review coming soon. (Yeah insert name here is super good too, but it's more action-oriented like a best of the action and riders from 2007-2008 – really good stuff to go surf and get amped)