Isolated by Hayden Parson (www.isolated.co.nz) is the most comprehensive New Zealand bodyboarding DVD ever. It's 98% pure NZ waves (but also features waves from all around the world) and NZ riders with the exception of a few riders like Hardy, Tom Smith and Liam O'Toole who've been tripping to NZ and were filmed by Hayden Parson. Read the rest of the review below.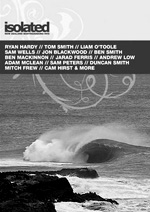 Isolated is a long, well edited, well filmed and comprehensive DVD. It's got dozens of unknown or lesser-known riders from NZ plus some local heroes. It's got dozens of waves and different spots and the whole DVD feels different from most videos. The NZ scenery, waves, colors, and moods are well represented in the video and i guess it's a really cool present that Hayden made to all NZ riders. If you live in NZ and ride a boogieboard and you're not in the video, damn i dont know how you did this, you must have skipped all the latest good sessions during the last 3 years hey !
The DVD showcases the talents of Jon Blackwood, Sam Wells, John Diamond, Andrew Low, Ben Mackinnon, Jarad Ferris, Ben Smith, Adam McLean, Duncan Smith, Sam Peters, Mitch Frew and Cam Hirst just to name a few. The good thing is that there's a high diversity of waves and spots, a high diversity of styles and riders, no stereotypes. Dk riders also which was really cool ! From massive slabs to perfect shorey barrels it's got it all. The soundtrack is pretty eclectic and will probably please all viewers.
It's a must have if you live in NZ, if you travel to NZ and if you wanna watch something different from the classic Oz videos and riders i reckon.
Might be slightly too long almost and some waves could have been taken off the video to shorten it a little bit but i guess it's better to have a longer video and more riders in the video than the opposite specially since we dont see NZ dvds all the time and it's a great thing to have all local riders in there.