Softcore by John Idano and Garret Allard (www.the claptheory.com) is the latest DVD to date hailing from the US – California to be exact. It's refreshing and well edited. Read the whole review by clicking the link right here below.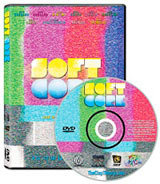 Softcore is cool, well edited, has its own feeling and style and doesn't really look or feel like any other US DVDs.
John and Garret managed to give the sections and the whole DVD a special feel with the old cathodic TV style edits, little skits between sections and flashy colors. Not too arty and not too classic. The music fits that feel pretty well with electro / pop / rock tracks.
There are heaps of riders and images from all around the globe which is good: Hawaii section, Jeff Hubbard section, Chili section, US west coast section with wedge footage and a couple Barba flights, short wavehouse section, good Oz section with heaps of riders and waves, a cool drop knee section with Hawaiian riders like Leroy ripping, short Paul Roach section with new and old stuff, some oldies footage of Stewart, then Hawaii again to finish it all.
It's really good to watch and i actually wanted to see more. Almost too short. It probably needed a couple more sections, like Oz or some more trips. I hope John's not gonna hate me for saying this. I know how hard it is to put a video together so i should just shut up !
Other than that the quality of the footage is really good, the editing really good too, same as what you've seen in the 2 cool teasers we posted on the Spongercity podcast. This is for sure a good DVD and i really liked the fact that we see things that we usually don't in other dvds. I mean all the rookies, like younger or lesser known aussie riders in Hawaii or all the Hawaiian DK riders that we never see anywhere else etc.
It's not a US DVD for US bbers, it's a US DVD for everyone to watch. I hope the distribution will eventually make it to Europe and Oz.