ROAM II. The latest production from Digital Children (filmed by Bryce Thurston and Liam O'Brien – Edited by Digital Chirldren / Bryce Thurston) delivers once again. ROAM I was great and ROAM II is great as well but it's got a different taste and feeling. Read the complete review by clicking below.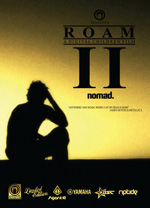 ROAM I was edited by Todd Barnes, whereas ROAM II is edited by Bryce Thurston so there's a different taste with this new DVD but there's heaps of things that are common to both DVDs, starting with excellent footage, good image quality, and a crew of highly talented riders.
The video starts with a short intro with sponsors and a hip hop soundtrack. It immidiately looks like a video clip or movie. The images have a special grain or filter that make 'em look like a real movie for some reason. It looks awesome and different. Then the real intro kicks in, it's a mellow intro with an Interpol soundtrack if i'm correct, followed by a section with everyone. Good opening for the vid'.
After those intro sections there's a great Tahiti section with sick images and waves. Ryan kills it. Mmmh Moby for the soundtrack wasnt really my thing but whatever.
Glen Thurston section is next. Sick waves, big barrels, total commitment. Good music.
Follows a South Oz section with once again sick waves that made me wanna buy a plane ticket and go somewhere. Damn it. The lucky ROAM II crew scored ! Hardy kills it once again. And Lackey has the backside thing wired.
Then, it's Lackey's turn to impress you. A full drop knee section, quite long, intense, with a good soundtrack, and sick backside barrels. Lackey rides backside with such a good style and technique that it makes it look easy. Pig-dogging nuggets like you thread pearls ! Damn it. Sick shit. Not your average dk waves and stuff, real hollow stufff with late backside scooping into the tubes. Loved it.
Then it's Jake Stone. Jake rips. The soundtrack too. Lagwagon – Train. Best song in the video. Gotta watch it. Good song that fits the rider and images very well.
Micheal Novy. Same as Jake. Really good and solid section, with massive waves, flow, style, commitment and everything.
Chris James. Awesome too, Chris charges with style. Except for the song. Offspring, not a big fan.
Hardy. Oh well. Ryan Hardy, from the planet of perfect style and perfect riding. This is pure bodyboarding. It's so good to watch Ryan, and he's got a full section in this movie. Perfect. Calculated, flowing, using rails, sliding in the barrel, playing with foam bowls and gravity.
To finish the video there's a cool "everyone" section with good dking from Dub and Mason Rose, with the chopper bird eye view. Niiiiice stuff.
I loved the simple yet clean and effective editing, the titles that looked like it was a theater movie, the quality of the footage, the fact that each rider has his own section and each section has something special. There are little intro's and interviews before each sections but it's well done and not boring.
Well this is a great DVD. A must have. It's got massive waves but also standard waves which is probably good to get amped and go surf your everyday waves, and be able to see what the pros can do with standard size waves.
The only thing i personally didnt like too much were some of the music choices. Moby and Offspring didnt do it for me. Only Lagwagon. haha.