A great DVD from the creators of SAME BUT DIFFERENT (Claws & Teeth – Dan Nicholls & West Matteeussen) with fresh faces, fresh waves, fresh footage, fresh editing and a lot more. The quality of the footage is really really good with a clean and clear image and not a single pixel of fuzzy stuff. The angles are sick too with a good mix of water footage and land footage and good original filming. There's quite a bunch of riders in the vid as well as classic "everyone" sections. Continue reading this review by clicking the link below.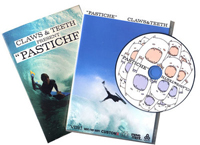 The video starts with an all time Brendon Backshall section with a good hardcore/punk soundtrack that is perfect to get you amped before you go surf. It's followed by a nice Pierre Louis Costes section and i must talk about the soundtrack here again coz it's a farkin good choice guys ! Coconut Records – sick tunes there ! (all boogers here, go buy the Coconut Records album, they're both really good!). Then it's Alex Halsey's section, it's good too with good rock n roll music on it. It's followed by a 2009 Hawaii section with good action and the Pipe contest action as well. Then there's Ben Veitch section followed by Adam Luehman section. We weren't big fans of the hip hop soundtrack on the section but Adam flies and hits sections with massive boosts and commitment. After that comes a WA wedge section with awesome action by Winny, Hughes, Mitch Rawlins etc.
Then there's a cool Thomas Robinson section and a sick Mitch Woodland one with good hardcore music. Amaury Laverhne follows with smooth manoeuvers and good lines. Then it's Novy with yet another solid section ! After that comes a classic "everyone" section before the final section: Ryan Hardy. Great footage, great rider, great music and great editing. Pretty much like a skate video i reckon Pastiche has choosen its 2 best sections for the opening and closing parts: Brendon Backshall (opening) and Ryan Hardy (closing). Ryan has such a nice section.
It's definitely a DVD you need to have in your collection. It's a high level of riding, filming, editing and it's a real pro DVD. There's a cool little booklet that comes with the DVD as well. It's original and it's a good mix between action and lifestyle, in a different way than most of the other DVDs. It's in between the clean and neat style of the Waldron bros. and a more arty style a la Lucky Squirrel Club. It's good !
Note that there's a bunch of extra footage in the bonus section.