« A lifetime passion that forever changes you » Mike Stewart
Those who grew up with a Mach 7-7 board in their hands, those who have been hooked up from the beginning, those for whom the politically correct bodyboard designation will never take the place of the boogieboard, those people have patiently been waiting for their Holy Bible – since THE INSIDE Dvd, released more than 10 years ago. And finally, FIRE came out!
Can you imagine! A film shot by the brilliant director of the excellent THE INSIDE video, Scott Carter himself!
The result is surprising, to say the least. Those who are keen on action bodyboard videos like the Waldrons videos would rather not watch it in the same way they watch an action packed bodyboarding DVD or Podcast but they should definitely watch it.
Click below to read the whole review.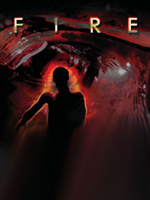 FIRE – 2 DVD release – Directed by Scott "Scotty" Carter and Mike Stewart (the 1st DVD's length is around 42 minutes)
We are dealing with an unusual video showing many slow-motion pictures, embedded camera images, psychedelic videos, and so on. Critics will claim that the video is dull and boring, that nothing happens in it, that Scotty didn't strain himself and that they've had the feeling to be watching a worse version of The Inside – showing the same environmental protection messages, the same clips from the American news, the same skateboarders hurtling down main roads, the same kind of inside waves views style sequences. They will say, on top of that, that they would have done without the long scenes of mini waves reconstituted by a laboratory, or of "works of art" painted by Scotty. Finally, they will say that the second DVD could have been different from the first one, and that it would have been nice to watch other images than those of Teahupoo and Pipe – they'll be telling a lie, because the Indonesian sequence is absolutely mythical, and no words can describe the Jaws one.
Others will say that the film reveals fantastic images about the bodyboard living legend and that it's awfully good to see Mike bodyboarding or bodysurfing above a splendid coral reef and on such a limpid and turquoise sea.
At last, here is a video with meticulous slow-motion pictures and mind-blowing music (Pink Floyd and reggae sound here and there). At last, there are no hectic transitions and hardcore rhythms that give the impression of a stroboscopic film.
Some wonderful images show Mike surfing on gigantic waves in Teahuppo, Jaws and Pipe. Jaws' scene is an instructive survival guide that teaches us how to come out of a titanic wave unharmed.
This video mainly presents old school riding and gives top priority to style, with flowing trajectories following the waves' trim and tube riding as the major figure of the film. However, there are also some airs and tricks.
The Indonesian sequence is a delight to look at because of its old school pictures – Mike riding on its Mach 7-7 in one tube after another, more than 25 years ago then favoring us with a 30-second tube. What a great time it was when polyethylene with no stringer was ruling the industry and seemed hugely efficient!
What a brilliant display of carefully polished and attractive pictures, sometimes interrupted with sequences in the style of The Inside – crazy skateboarders, clips from the news, rodeo pictures, etc.
One can regret the fact that most of the pictures are in slow motion, but even so, it's amazing to see Mike in Teahuppo. It is really fantastic to see him easily duck diving under mountains of turquoise water, rushing down the only bowl of this well-known wave, bodysurfing in Pipe, and tow-in surging in Jaws.
On the other hand, the second DVD brings nothing new to the first one. It could have been a group of pictures on the B-side of the Fire single, but they are too similar to those of the A-side. One could say it's a different cut of the same images.
To conclude, Fire is nothing like what we got used to see. It presents a lot of beautiful pictures in slow motion (too often for some people), a lot of tube riding, a lot of tubes, a lot of splendid waves, and a lot of Mike Stewart in a single video. It's a perfect DVD to play when you come back from a session for your never-ending drinks & smokes.
Reviewed by Bill B. for Spongercity.